LOS ANGELES, Calif., Oct. 7, 2019 (SEND2PRESS NEWSWIRE) — Guardian Angels Medical Service Dogs is both humbled and honored to announce that on Friday, October 5, 2019 after more than a million public votes, our Service Dog, Alice; specifically trained to assist Recipient Antonio was named the 2019 Hero Dog of the Year in the American Humane Hero Dog Awards.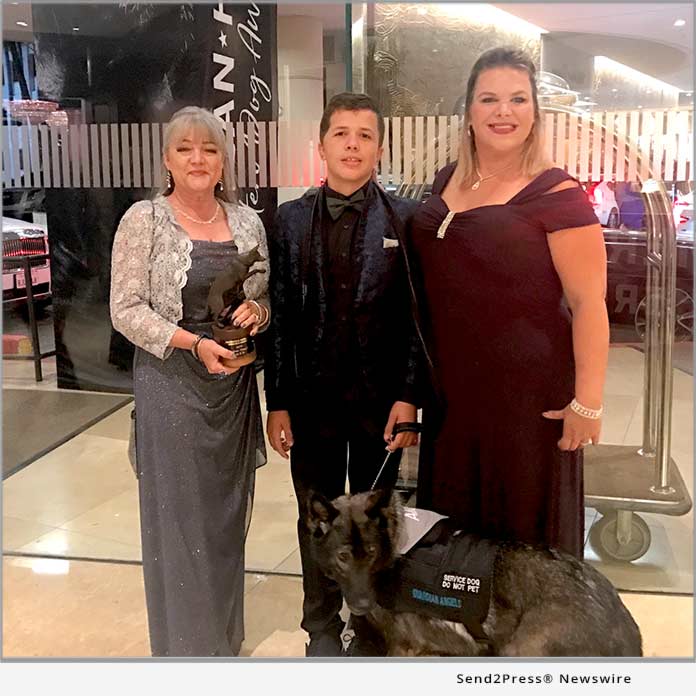 PHOTO CAPTION: Carol Borden, Guardian Angels Founder & CEO; Antonio & his Service Dog, Alice, and Antonio's Mom, Tara at the Hero Dog Awards.
Alice has been watching over Antonio since 2016, after he tragically suffered a gunshot wound to the head at the age of nine, while sitting in his parents' car in 2015.
Since that day, Antonio has struggled through 5 brain surgeries, leaving him with a permanent traumatic brain injury, and an artificial flap that covers a large portion of his skull. He suffers regularly from seizures, spells, migraines and balance issues. Alice is at Antonio's side constantly, including attending school together; and she is focused on Antonio at all times. She not only alerts to oncoming seizures and spells, but assists him with balance issues, as a fall could potentially be fatal.
Seven truly incredible dogs were finalists for each category including: Sgt. Yeager: Military; Piglet: Search & Rescue; Leader Dog Lady: Guide/Hearing; Jeanie: Therapy; Gus: Shelter; Dax: ­­Law Enforcement/Arson and of course, Alice in the Service Dog Category. We congratulate each category winner and recognize their incredible unique skill sets.
Alice completed nearly 2 years of unparalleled custom training to prepare for a life partnering with and assisting Antonio. Giving her acceptance speech, Antonio's Mom Tara said: "It's so incredible, we are truly honored to receive this award – I thank everybody who voted and showed support for my boy and Alice. Through a shooting, and something so dark, you forget to believe in humanity; but when something like this happens you start to learn that there is good in this world."
You can view the Hero Dog Awards in its entirety on the Hallmark Channel airing October 21, 2019. Check local listings for times in your area.
Guardian Angels, a 501(c)(3) nonprofit org, was founded in 2010, and custom-trains medical service dogs for veterans, first-responders and individuals like Antonio. Although the cost of training each service dog can take up to 2 full years, and cost nearly $25,000, we donate each dog to the recipient at no cost. Everything we do is funded by donation. To date, we have paired over 320 service dogs in 23 states across the nation.
If you would like to learn more about our organization, or support this life-saving work, visit our website at http://www.medicalservicedogs.org/.
*PHOTO link for media: https://www.Send2Press.com/300dpi/19-1008s2p-herodog-300dpi.jpg
*Caption: Carol Borden, Guardian Angels Founder & CEO; Antonio & his Service Dog, Alice, and Antonio's Mom, Tara at the Hero Dog Awards.
News Source: Guardian Angels Medical Service Dogs Inc.