PHOENIX, Ariz., Aug. 15, 2023 (SEND2PRESS NEWSWIRE) — Fostering new connections and diverse business growth, the Millionaire Mastermind Academy, a leading nonprofit organization that has helped more than 8,000 diverse entrepreneurs across the country, and JPMorgan Chase & Co. hosted a Supplier Diversity Matchmaking event on Aug. 7 in support of IMPACT AZ 2025. With the goal of closing the racial wealth gap for business owners through supplier diversity readiness, IMPACT AZ 2025 launched in April with its first cohort of more than 50 business owners across the valley.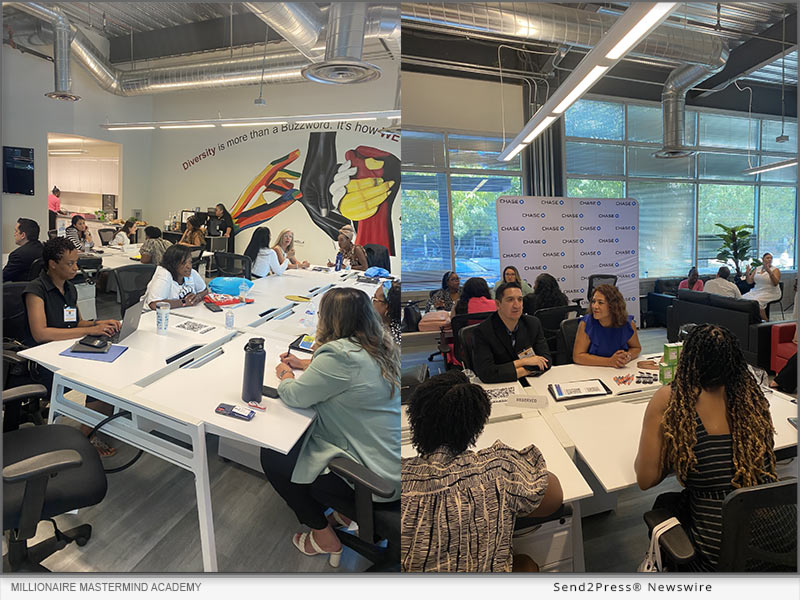 Image Caption: Supplier Diversity Matchmaking event on Aug. 7 in support of IMPACT AZ 2025.
The matchmaking event connected diverse business owners with public and private supplier decision-makers, including the City of Phoenix, the City of Scottsdale, APS, JPMorgan Chase & Co., SRP and Via West Group, with opportunities from the construction and facilities maintenance, finance and insurance, transportation, manufacturing and professional services industries.
Dwight Warren, executive director and market manager of Government and Not-for-Profit Banking at JPMorgan Chase, kicked off the special event. In addition, Dr. Velma Trayham, founder of the Millionaire Mastermind Academy and creator of IMPACT AZ, and Robin Reed, CEO of the Black Chamber of Commerce of Arizona, welcomed attendees and shared perspectives on the importance of greater supplier diversity.
"Arizona's largest supplier diversity readiness accelerator is already making significant progress towards our goal of advancing more than 250 diverse businesses past the $1 million threshold," said Dr. Trayham. "We are incredibly proud to demonstrate needed leadership in supporting and growing diverse business opportunities across the wonderful state of Arizona."
The solutions-driven accelerator program is expanding procurement opportunities with corporations and government entities. Fortune 500 companies spend about 2% annually on minority-owned suppliers, well short of the 10% to 15% spending goals many corporations establish.
"At JPMorgan Chase, we place ongoing emphasis on supplier partnerships and building strong and lasting relationships," Warren added. "Thanks to this commitment over the past 25 years, we are better able to serve our clients, shareholders, employees and communities more efficiently and effectively."
About IMPACT AZ 2025
IMPACT AZ 2025 is Arizona's largest supplier diversity readiness program designed to close the racial wealth gap of black business owners. Supported by the Millionaire Mastermind Academy in collaboration with the Black Chamber of Arizona, IMPACT AZ 2025 is a three-year business accelerator focused on supplier diversity training to grow business opportunities. For more information, visit https://impactaz2025.com/
About Millionaire Mastermind Academy
The Millionaire Mastermind Academy is a 501(c)(3) nonprofit whose mission is to educate and support the growth of women-owned business enterprises, thereby strengthening the economic impact in their community. We have mentored more than 8,000 women through technical assistance & economic empowerment programs. For more information, visit https://millionairemastermindacademy.org/
MEDIA CONTACT:
Nancy Davis
Thinkzilla PR & Consulting Group
888-509-1145
News Source: Millionaire Mastermind Academy