TIPP CITY, Ohio, April 9, 2018 (SEND2PRESS NEWSWIRE) — Elmwood Local Schools expects to save $63,792 annually by partnering with Energy Optimizers, USA, to upgrade the district's lighting systems to energy-efficient LEDs.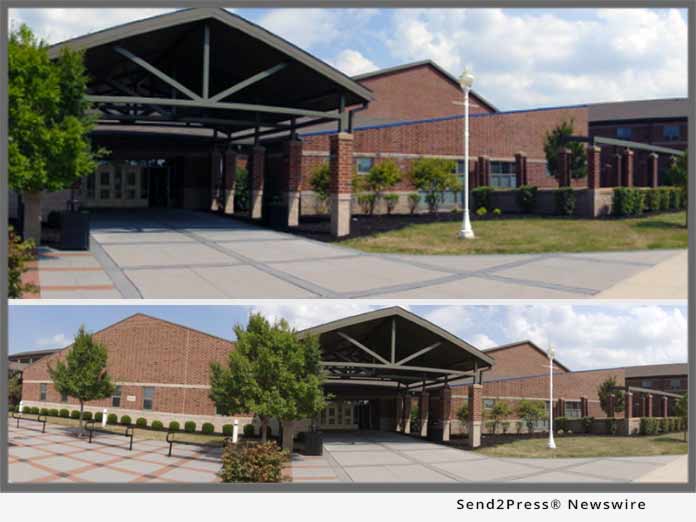 The interior lighting of the district's K-12 building will be retrofitted with LEDs, as will the interior and exterior lighting of the Community Center. The project will include a 10-year material warranty on the lighting systems.
The changeover will deliver immediate savings to the district. LED lighting uses an average of 60 percent less energy than the systems being replaced. It also lasts five times longer than traditional systems, which will reduce long-term operations and maintenance costs. Also, the lighting puts out less heat, which will help keep cooling bills in check during warmer months.
In return for improving its energy efficiency, the district is expected to receive more than $30,000 in incentives from the Hancock-Wood Electric Cooperative.
"In our district, we strive to balance fiscal conservativism with a rich selection of academic and extracurricular opportunities for our students," said Superintendent Tony Borton. "This project will support both of those objectives while creating classroom environments that are more conducive for learning."
LED lighting's benefits extend well beyond energy conservation. LEDs do not have the hum and flicker associated with fluorescent lighting, making it an ideal lighting system for special needs classrooms. The quality of light is also close to natural sunlight, which will be welcomed students and members of the community center alike.
"Making the switch to state-of-the-art LED lighting systems is a commonsense strategy that provides school districts with more control over their budgets," noted Greg Smith, Energy Optimizers, USA president. "Directing more taxpayer dollars toward the classroom and Community Center amenities, rather than the local utility, works to the benefit of the district's students, staff, and community alike."
About Energy Optimizers, USA:
Energy Optimizers, USA works with educational, governmental, commercial and industrial customers to implement energy savings opportunities to reduce operational costs, including lighting retrofits, renewable energy projects (wind and solar), HVAC retrofit projects, building automation retrofits and energy education programs. The company was named to the INC. Magazine Top 500 list of fastest growing companies in the U.S. (2014), was named the Fastest Growing Company in the region for two consecutive years by the Dayton Business Journal (2013, 2014), and was named a finalist in the Dayton Business Journal Best Places To Work competition in 2016.
To learn more about Energy Optimizers, USA, visit their website at http://energyoptusa.com or call them at (937) 877-1919.
###
MEDIA ONLY CONTACT:
(not for print or online)
###
Media Only Contact:
Belinda Kenley
Energy Optimizers, USA
Phone: 937-877-1919

News Source: Energy Optimizers USA