NEW YORK, N.Y., June 29, 2023 (SEND2PRESS NEWSWIRE) — FonePaw Screen Recorder 7.0.0 is ready for better gameplay recording, with enhancements in video sharpness, audio quality, game and microphone volume, and hotkey setting.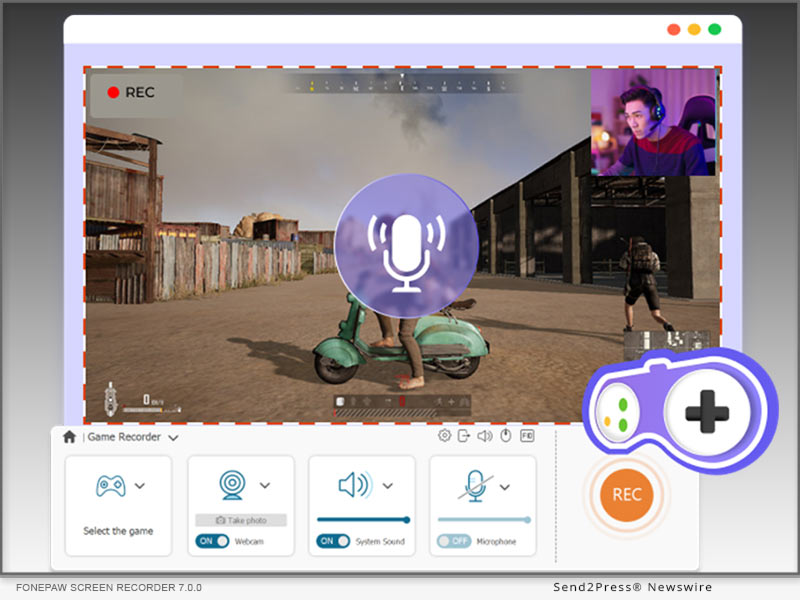 Image Caption: FonePaw Screen Recorder.
Update to FonePaw Screen Recorder 7.0.0
Shout out to FonePaw Screen Recorder users! Based on valuable feedback from users & game players, the updated FonePaw Screen Recorder for game recording has become even more powerful in recording gameplay, enabling users to record 4K 60FPS videos, capture computer screen and webcam simultaneously, adjust microphone volume and game audio settings, and customize hotkeys. As leading software supported by Emodest Technology Limited, FonePaw Screen Recorder never stops improving its functions. New FonePaw Screen Recorder becomes better than ever to Record Games on Steam and other PC gaming platforms. Anticipated by users worldwide, FonePaw Screen Recorder 7.0.0 will debut on June 20, 2023, providing an opportunity to enjoy all the enhancements and features.
Among FonePaw's comprehensive features, the latest update in game recording solidifies its position as the leading recording software. Featuring diverse video and audio settings, high-quality resolution, advanced noise-reduction technology, convenient built-in editing tools, FonePaw Screen Recorder empowers game players to capture and customize their recordings with unparalleled precision and ease. FonePaw undoubtedly ranks top among Best Screen Recorders for Gaming and it is always dedicated to providing the ultimate recording experience that professionals and enthusiasts rely on.
WHAT IS NEW FOR GAME RECORDING?
1 – 4K Video Quality
Users can now delve into the captivating realm of gaming with FonePaw Screen Recorder's support for stunning 4K resolution at 60 frames per second. Leveraging advanced hardware acceleration techniques, this software ensures smooth recordings, devoid of any lag or visual artifacts. Every aspect of gameplay, from the minutest detail to adrenaline-fueled action sequences, is flawlessly captured. With impeccable precision, game players can capture every highlight, showcasing their skills and accomplishments in remarkable visual fidelity. The software's long-term recording capabilities guarantee uninterrupted gameplay sessions, preserving every pivotal moment with marvelous image quality. Besides, as the best screen recorder with no watermark, FonePaw will give you excellent viewing experience with the original scene.
2 – Simultaneous Game and Webcam Capture
FonePaw Screen Recorder 7.0.0 incorporates a webcam overlay. This feature allows users to connect with their audience on a deeper level, providing real-time reactions that enhance the overall viewing experience. With the webcam overlay, viewers can witness every smile, every intense expression, and every celebratory moment as it unfolds during gameplay. To ensure uninterrupted experience, FonePaw Screen Recorder updates with its built-in camera noise reduction feature. Live-streamers can expect their face and voice to be captured with exceptional clarity, ensuring that every nuance and detail is preserved. It is absolutely one of the best tries to align with today's live-streaming trend.
3 – Crystal Clear Audio Adjustment
Hundreds of thousands of posts asked how to adjust game volume and microphone volume during recording, with some even complaining about their recording software failing to make a balance between game volume and microphone volume. FonePaw Screen Recorder 7.0.0 gives its solution—allowing users to capture and adjust gameplay audio, background music, and microphone simultaneously. With advanced noise reduction and microphone enhancement features, microphone voice will be captured with remarkable clarity, ensuring that all the commentary and reactions can be heard loud and clear.
4 – Customizable Hotkeys
Convenient and speedy response means everything in game recording. The new FonePaw Screen Recorder empowers users with the convenience of customizable hotkeys, offering effortless control at their fingertips. Recording functions such as starting or stopping recordings, pausing or resuming, and capturing screenshots are just a keystroke away. The software adapts to individual preferences, providing a user-centric approach that allows gamers and content creators to focus on their craft. Whether it's an epic triumph, awe-inspiring scenery, or a hilarious glitch, users can effortlessly preserve their standout moments with a simple key press.
5 – Distraction-Free Gameplay Capture
FonePaw Screen Recorder introduces Lock-Window Recording, a useful feature that allows users to select and lock the gameplay window during recordings. Users definitely know what a bummer it is when some notification or an unexpected window pops out in the middle of a heated battle. By excluding other windows and stopping on-screen notifications, FonePaw Screen Recorder Lock-Windows mode empowers users to focus solely on their gameplay, capturing every moment with clarity and precision. This feature enhances the quality of gameplay recordings, ensuring an uninterrupted recording environment.
SPECIFICATIONS
Minimum System Requirements
Windows Operating System: Windows 11, Windows 10, Windows 8.1, Windows 8, Windows 7, Windows Vista, or Windows XP (32-bit or 64-bit)
Mac Operating System: Mac OS X 10.12 or above
Supported Output Format Specifications
For Windows:
Video: WMV, MP4, MOV, F4V, AVI, TS
Audio: MP3, WMA, AAC, M4A
Screenshot: PNG, JPEG/JPG, GIF, TIFF, BMP
For Mac:
Video: MP4
Audio: M4A
Screenshot: PNG
Pricing:
FonePaw Screen Recorder now offers a 30% discount for all the 3 plans.
Unleash the full potential of your gaming recordings with FonePaw's exclusive discount. Download the free version now or seize the chance to elevate your gaming experiences and subscribe FonePaw Screen Recorder to capture your best gaming moments.
Price after discount
1-Month Plan: US$19.56 for 1 PC
1-Year Plan: US$38.46 for 1 PC
Lifetime Plan: US$79.77 for 2 PCs
NOTE All features are fully supported across all subscription plans. Additionally, subscribers to the Lifetime Plan will enjoy the benefit of accessing the software on up to two PCs, along with lifetime free updates.
LEARN MORE:
https://www.fonepaw.com/game-recorder/
https://www.fonepaw.com/recorder/record-gameplay-on-steam.html
https://www.fonepaw.com/recorder/top-game-recorders.html
https://www.fonepaw.com/recorder/free-screen-recorder-no-watermark.html
About FonePaw:
Born in Emodest Technology Limited, FonePaw is a leading software developer committed to providing innovative tech solutions, with FonePaw Screen Recorder being one of its flagship products. With a focus on excellence and user satisfaction, FonePaw continues to push boundaries in software development, delivering reliable and problem-solving solutions for users worldwide.
Official Website: https://www.fonepaw.com/
Contact E-mail: support@fonepaw.com
Youtube page: https://www.youtube.com/@Fonepaw
News Source: FonePaw