NEW YORK, N.Y., June 27, 2023 (SEND2PRESS NEWSWIRE) — HitPaw, a famous software developer focused on photo and video solutions, is about to announce the new version of online video compressor. With its help, you can better improve your storage and won't worry about the video quality lost.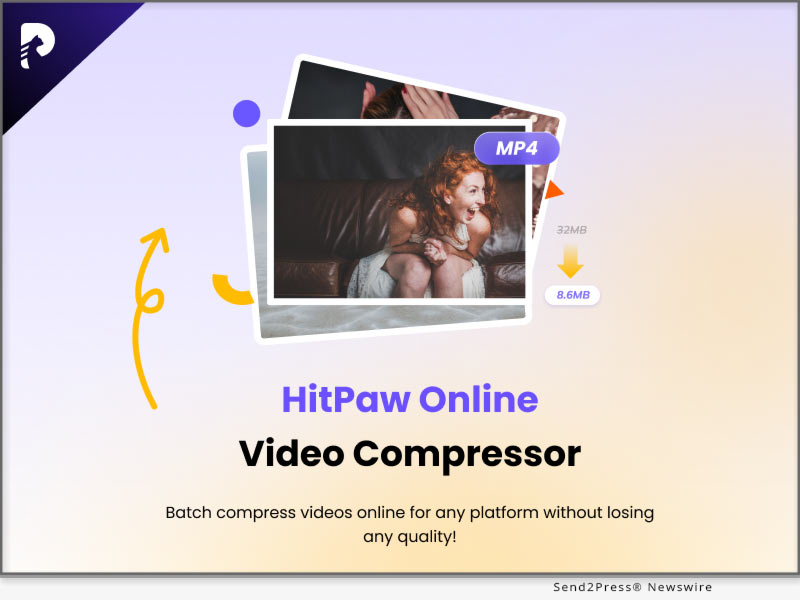 Image Caption: Reduce Video Size Online.
HitPaw Online Video Compressor is an effective online tool that gives you a hand to compress your large video without loss. It supports a wide range of video formats and ensures efficient processing while maintaining the integrity of your videos.
HERE ARE SOME OF ITS AMAZING FEATURES:
1 – Lossless Compression
HitPaw Online Video Compressor is a online tool that can help you compress your large video without damage your experience. Is that not attractive? You just need to wait for minutes, then the compression will be done ad you wish.
2 – Batch Process
HitPaw Online Video Compressor supports to handle more video files to compress, which can save you much precious time, I guess. And you have the right to choose the resolution that you prefer instead of being limited to the functions and effects.
3 – Compress to Any Platform
HitPaw Online Video Compressor can easily compress video size to the recommended video size for sharing to Discord, Whatsapp, Snapchat and other platforms. It gives you a more simple download way to finish it. After click "download," you can see the progress on your computer. What's more, it won't take you too long.
Other features:
Simple and Straightforward
Supports various Input Formats
Allows you to change video resolution
HitPaw Online also provides an audio compressor and an image compressor
Compatibility and Price:
Compatibility: HitPaw Online Video Compressor works well both on PC and Mobile now.
Price: Starts from $3.99 for per week, $7.99 for per month and $47.99 for per year.
Want to know more information about HitPaw Online Video Compressor, visit: https://online.hitpaw.com/purchase/buy-hitpaw-online-video-compressor.html
About HitPaw:
HitPaw is an emerging software company specialized in video editing, screen recording, watermark removing, image editing, photo enhancing meme-making, etc. We help users turn their inspiration into reality so that we can generate more ideas to make the world be full of more creativity.
To know more, you may visit https://www.hitpaw.com/about.html and https://online.hitpaw.com/.
Our Social Media:
YouTube: https://www.youtube.com/channel/UCQwRggaotgiMcPbiCOsJeBA
Facebook: https://www.facebook.com/hitpawofficial
Twitter: https://twitter.com/hitpawofficial
Instagram: https://www.instagram.com/hitpawofficial/
Pinterest: https://www.pinterest.com/hitpawcom/
News Source: HitPaw