NEW YORK, N.Y., July 17, 2023 (SEND2PRESS NEWSWIRE) — HitPaw, a leading software development company, is excited to announce the launch of its groundbreaking Real-time Voice Changer. This innovative tool empowers users to effortlessly transform their voices in real time, providing a whole new level of creativity and entertainment in a matter of seconds.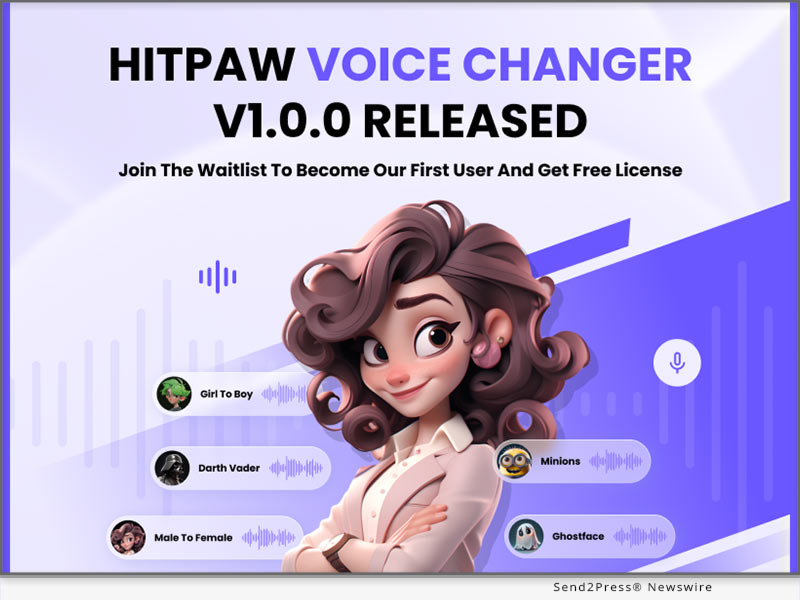 Image Caption: HitPaw Launches Real-time AI Voice Changer.
HitPaw Voice Changer offers a wide range of features that allow you to modify their voices in creative ways. With a user-friendly interface and intuitive controls, you can easily experiment with different voice effects, pitch adjustments, and sound filters to transform your voices in real time. Whether it's for fun, content creation, or professional purposes, HitPaw Voice Changer caters to a diverse audience with its versatile capabilities.
It's not only about changing voice, but also about unlocking creativity, unleashing self-expression, and having fun in the process.
Key features of HitPaw's AI Voice Changer include:
Real-time Voice Transformation
HitPaw Voice Changer allows you to modify their voices in real-time, instantly applying various effects and filters to achieve desired vocal transformations.
The tool provides a wide selection of voice effects, enabling users to sound like Yoda; Ghost; Man/Female and so on…Adding an element of fun and versatility to your voice transformations.
HitPaw Voice Changer features an intuitive and user-friendly interface, making it easy for users of all skill levels to change their voice effortlessly. The controls are straightforward, allowing for quick adjustments and seamless transformations. Additionally, it provides a user guide in advance. If you don't know how to change your voice, you can refer to the tutorial and follow the instructions.
Other features:
Integrate perfectly with all popular games and programs
Remove noise and echo while changing voices
Compatibility and Price:
Compatibility: HitPaw Voice Changer works only for Windows 8/8.1/10/11 now, the Mac Version will coming soon, please stay tuned.
Price: Start from $15.95 for per month; $35.95 for per year; $65.95 for Perpetual
For more information, please check: https://www.hitpaw.com/voice-changer.html
About HitPaw:
HitPaw is an emerging software company specialized in multi-media solutions such as voice changing, video editing, screen recording, watermark removing, image editing and meme-making, video enhancing, etc. We help users turn their inspiration into reality so that we can generate more ideas to make the world full of more creativity.
To know more, you may visit https://www.hitpaw.com/about.html and https://www.hitpaw.com/
Our Social Media:
YouTube: https://www.youtube.com/channel/UCQwRggaotgiMcPbiCOsJeBA
Facebook: https://www.facebook.com/hitpawofficial/
Twitter: https://twitter.com/HitPawofficial
Instagram: https://www.instagram.com/HitPawofficial/
Pinterest: https://www.pinterest.co.uk/joshuahill9052/
News Source: HitPaw