NEW YORK, N.Y., July 19, 2023 (SEND2PRESS NEWSWIRE) — HitPaw, a leading software technology company, has announced the release of Mac version of the Video Object Remover – the HitPaw Video Object Remover Mac V1.2.1. This powerful video editing tool is designed specifically for Mac users running macOS 10.15 and above, with enhanced compatibility for macOS 12 and above systems.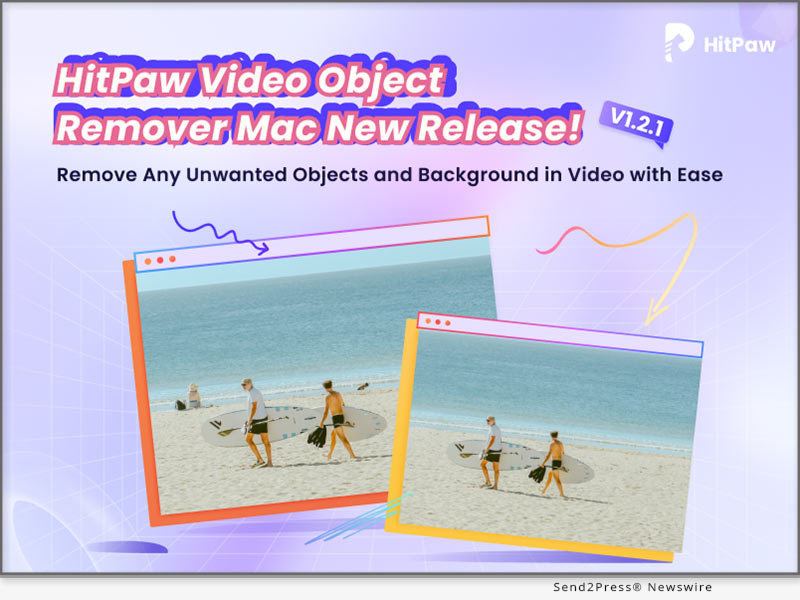 Image Caption: Video Object Remover Mac V1.2.1 Release.
In this new version, ported the selection module of the AI object removal model in the Windows version and can recognize the selection intelligently. In the Mac version, we have added the business package for users to choose in addition to the personal package.
LET'S CHECK OUT THIS NEW VERSIONS:
1 – The selection module of the AI object removal model
The limit on the number of selections created is no longer limited to one, now multiple selections can be created. This new feature offers more control and precision in removing objects and recognition in the background, allowing users to create stunning results. Gone are the days of tedious manual selection – effortlessly handling multiple objects you want to remove at the same time and saving valuable time and effort.
2 – The AI background removal models
HitPaw has also improved the AI background removal models of Video Object Remover Mac V1.2.1. The export function of the background removal model has been optimized for transparent video export, now you can see the effect of background removal by exporting transparent video directly, no need to change the player to verify.
3 – The preview playback function
HitPaw Video Object Remover Mac V1.2.1 now allows users to preview the entire video with the applied object removal effects in real-time. Witness the magic unfold as unwanted elements disappear seamlessly from your footage, ensuring you achieve the desired outcome before finalizing the edit.
4 – Wide Language Support
HitPaw Video Object Remover Mac V1.2.0 breaks barriers by supporting 17 languages, including English, Spanish, French, German, Chinese, Japanese, and many more. Users from different linguistic backgrounds can now enjoy a seamless video editing experience.
Compatibility and Price:
HitPaw Video Object Remover V1.2.0 is optimized for macOS 10.15 and above, with added support for macOS 12 and above systems, ensuring Mac users can harness its full potential across a range of devices.
Its pricing starts from $49.99 per month, $69.99 per year, and $109.99 for the lifetime. And in business license, users can choose 5 Macs for 139.95 USD and 10 Macs for 269.95 USD.
For more information checking, you can visit:
https://www.hitpaw.com/hitpaw-object-remover.html
About HitPaw:
HitPaw is an emerging software company specializing in video editing, screen recording, watermark removing, image editing, photo-enhancing meme-making, etc. We help users turn their inspiration into reality so that we can generate more ideas to make the world full of more creativity.
To know more, you may visit https://www.hitpaw.com/
Our Social Media:
YouTube: https://www.youtube.com/channel/UCQwRggaotgiMcPbiCOsJeBA
Facebook: https://www.facebook.com/hitpawofficial
Twitter: https://twitter.com/HitPawofficial
Instagram: https://www.instagram.com/hitpawofficial/
Pinterest: https://www.pinterest.com/HitPawofficialwebsite/
News Source: HitPaw