NEW YORK, N.Y., Nov. 3, 2023 (SEND2PRESS NEWSWIRE) — We are thrilled to announce the release of HitPaw V1.2.0, a significant update to our already popular software that expands its capabilities. With this new version, we are introducing two exciting new features, adding to our existing functionality and offering even more versatility and creativity to our users.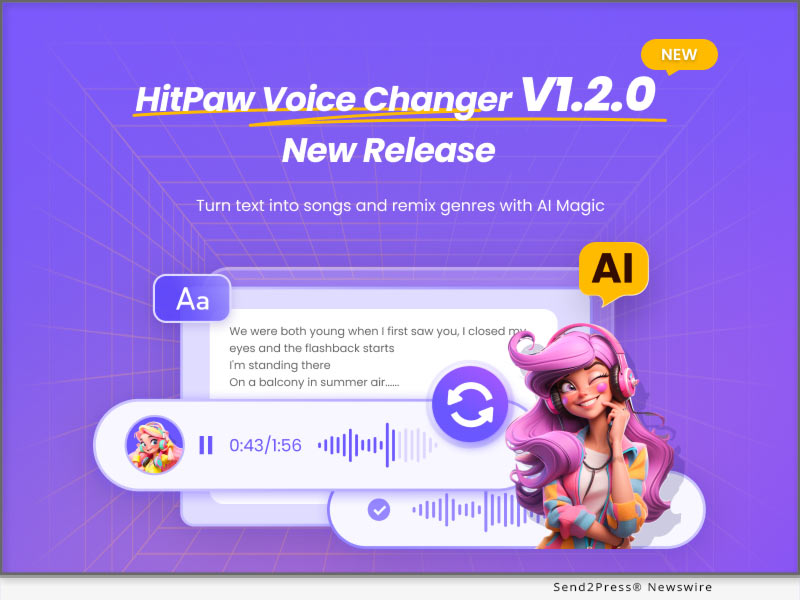 Image Caption: HitPaw Voice Changer V1.2.0.
This latest version of HitPaw is compatible with various operating systems and is perfect for anyone looking to enhance their audio and video projects. Whether you're a content creator, gamer, or simply someone who loves to experiment with audio, HitPaw V1.2.0 has something special for you.
LET'S CHECK OUT THE KEY FEATURES OF THIS NEW VERSION
Turn your written words into beautiful melodies effortlessly. Our text-to-song feature allows you to transform your text into music, adding a whole new dimension to your creative projects. Express yourself through personalized songs and enhance your videos with original soundtracks.
Change the style and mood of your music with a single click. The genre change feature enables you to instantly transform your music, whether you want it to be pop, rock, classical, or something entirely different. The possibilities are boundless, and your creative options are expanded.
Elevate Your Online Presence, Gaming Experience, and Recordings with Instant Voice Transformations
HitPaw Voice Changer has embraced state-of-the-art AI innovations for an unprecedented voice transformation experience. By simply uploading your audio or video files, you can access a myriad of AI voice effects such as Trump, Taylor, Bieber, and more. Whether your aim is to entertain, safeguard your confidentiality, or delve into imaginative ventures, the AI-powered voice alteration in HitPaw Voice Changer offers an abundance of possibilities.
A Varied Selection of Voice Effects
Discover a broad array of pre-designed voice effects meticulously tailored to complement diverse genres and emotions. Enhance your content effortlessly with minimal effort, requiring just a few straightforward clicks.
For more information checking, you can visit: https://www.hitpaw.com/voice-changer.html
About HitPaw:
HitPaw is an emerging software company specializing in video editing, voice-changing, screen recording, watermark removing, image editing, photo-enhancing etc. We help users turn their inspiration into reality so that we can generate more ideas to make the world full of more creativity.
To know more, you may visit: https://www.hitpaw.com/
Our Social Media:
YouTube: https://www.youtube.com/channel/UCQwRggaotgiMcPbiCOsJeBA
Facebook: https://www.facebook.com/hitpawofficial
X (Twitter): https://twitter.com/HitPawofficial
Instagram: https://www.instagram.com/hitpawofficial/
Pinterest: https://www.pinterest.com/HitPawofficialwebsite/
News Source: HitPaw