DENVER, Colo., May 15, 2023 (SEND2PRESS NEWSWIRE) — From the Kiosk Manufacturer Association (KMA) – Come see us in Chicago at NRA 2023. We are in booth 6475 with over 50 companies are represented. We have a limited number of free passes we are happy to provide. We'll be showing conversational AI in our booth in the Tech Pavilion (6475).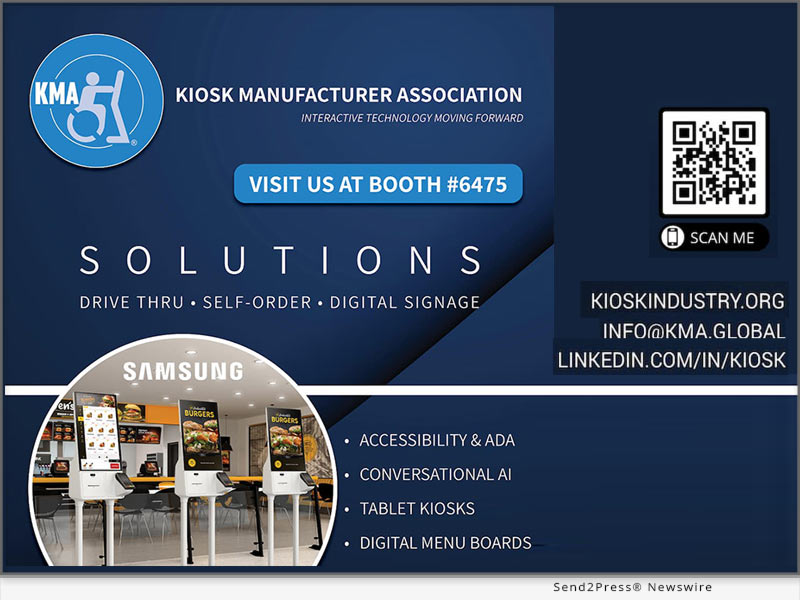 Image Caption: Kiosk Manufacturer Association at NRA 2023 Chicago.
See our dedicated page for Conversational AI and Voice covering assisted shopping at grocery store (e.g. Sprouts) and fast food drive thru pilots which are launching every other day (Wendy's is latest). Accessibility and ADA for self order will be highlighted in our booth as well. Learn more: https://kioskindustry.org/conversational-ai-voice/
Featured this month:
National Restaurant Association tradeshow in Chicago. Visit our NRA portal in the meantime for a preview. We have a limited number of free passes (also for InfoComm in Orlando where we are official media partner). In the booth at NRA includes: Storm Interface, Pyramid Computer, imageHOLDERS, SapientX, Samsung, Nanonation and Pitney Bowes.
Learn more: https://directory.nationalrestaurantshow.com/8_0/exhibitor/exhibitor-details.cfm?exhid=62520315
News 5/15/2023:
For more information contact info@kioskindustry.org or visit https://kioskindustry.org/.
Since 1996 for 27 years. For a list of all verticals visit The Industry Group – https://industrygroup.org/
Thanks to the companies whose support makes this possible: https://kioskindustry.org/kiosk-manufacturer-companies/
IMAGE: https://www.Send2Press.com/300dpi/23-0515-s2p-kioskasc-300dpi.jpg
News Source: Kiosk Association