LAKE MARY, Fla., Oct. 12, 2023 (SEND2PRESS NEWSWIRE) — Modern Foot & Ankle, Florida's leading provider of podiatric care, proudly welcomes foot and ankle surgeon Kristina Sikar, DPM, to the team.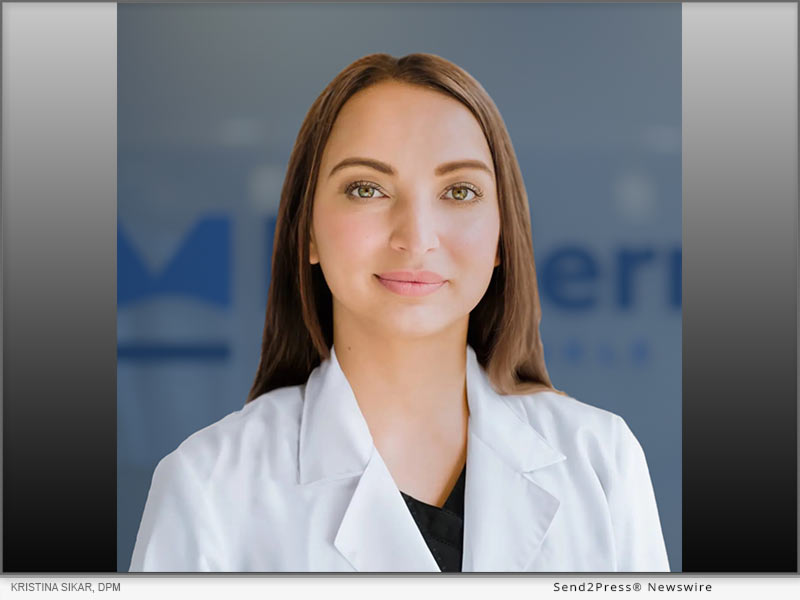 Photo Caption: Kristina Sikar, DPM.
Starting Monday, Dr. Sikar will begin seeing patients at the group's Lake Mary and Casselberry offices. She is replacing Dr. Tamara Nemeroff, who will be moving to Jupiter to open Modern Foot & Ankle's first clinic in South Florida. The new office is slated to open next month.
Dr. Nemeroff's former clinics are in good hands. The talented Dr. Sikar brings her knowledge, experience, and holistic approach to the Orlando suburbs, delivering high-quality care to her new patient base.
"What excites me about serving this community is the genuine sense of unity and the warm, welcoming nature of its residents," she said. "Being part of a place where people support and value each other fosters a strong sense of purpose and fulfillment in my role as a healthcare provider."
Dr. Sikar received extensive training during her surgical residency at Harvard Medical School and while in private practice in Palm Beach. She is skilled in all aspects of foot and ankle healthcare with a special interest in cosmetic foot surgery, wound care, sports medicine, diabetic foot care, and prevention of diabetes-related complications in the lower extremities.
"I approach patient care with compassion and empathy, understanding that even minor foot and ankle issues can have a significant impact on a person's quality of life," explained Dr. Sikar. "Throughout my career, I've acquired a profound understanding that no two patients are the same, no two medical problems are identical, and everyone brings unique social circumstances into their healthcare journey.
"This comprehensive knowledge allows me to provide essential support while tailoring each treatment to address not only patients' medical needs but also their unique individuality and specific social factors," she continued.
The opportunity to serve a diverse population was a draw for Dr. Sikar. Yet what she finds most appealing about Modern Foot & Ankle is its healthcare approach, which she says "embraces the modern advancements in healthcare while keeping the patient at the center of every decision."
"This approach not only ensures that patients receive the most current and effective treatments but also fosters a sense of trust and engagement by providing readily available assistance tailored to each individual's needs," she said.
Dr. Sikar offers evening availability at the Casselberry location to further accommodate her patients. To schedule an appointment with her, visit book.mfahealth.com or call 1-844-MODERN9.
About Modern Foot & Ankle®:
Through Big-City Technology. Small-Town Care.® Modern Foot & Ankle is reshaping the patient experience and curating a progressive model for podiatric healthcare. Our physicians provide comprehensive medical and surgical solutions for foot and ankle conditions in clinics across Florida. With 24/7 online booking and check-in, extended office hours, advanced on-site equipment, and cutting-edge treatment options, Modern Foot & Ankle serves patients efficiently, comfortably, and on their schedule. For more information, visit ModernFootAnkle.com.
Contact: Lindsay Siegel, Modern Foot & Ankle
Phone: (813) 549-5678
Email: marketing@mfahealth.com
News Source: Modern Foot and Ankle