TEMECULA, Calif., Oct. 30, 2023 (SEND2PRESS NEWSWIRE) — Today, Neotrope, a 40+ year old marketing firm, and Send2Press Newswire, a 24 year old online newswire service, caution PR and marketing pros about the fallacy of using questionable newswire services to place client news announcements on invisible, pointless news platforms, to scare up false and misleading ROI.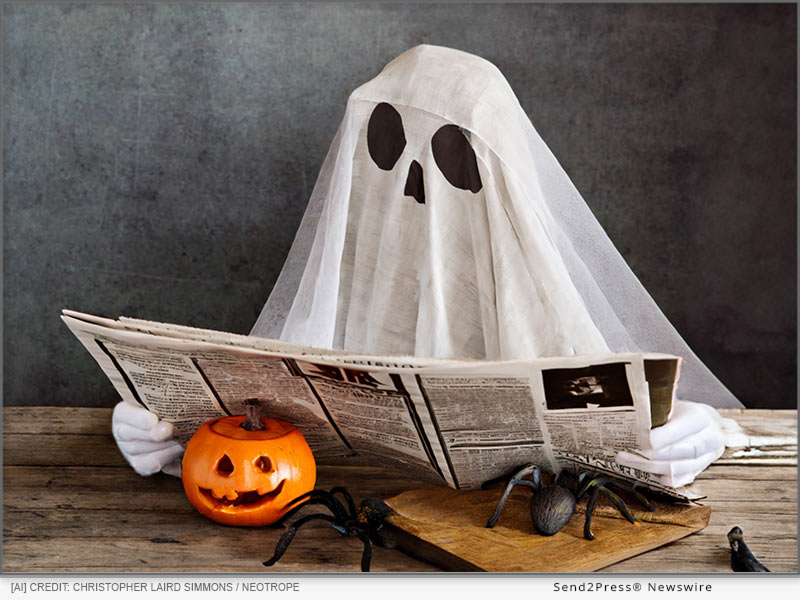 Image Caption: Neotrope and Send2Press warn against ghost posts. Credit: Christopher Laird Simmons.
"There are many start up and budget newswire services claiming to place client news on 350+ websites for a low fee," said Neotrope CEO and co-founder, Christopher Laird Simmons. "However, in reality these 'ghost posts,' as I call them, are not searchable on the sites where placed, do not appear in any search engine or social, and never show up in places like Google News, Bing News, or Apple News.
"So, effectively they have zero value and simply inflate ROI reporting to make it seem like something happened. This is misleading to end clients, and these services are like handing out candy on Halloween, but kids only get empty wrappers.
"Additionally, some advertise 'guaranteed placement' on broadcast TV websites, but most of the so-called broadcast site placements either fade away in 30 days, or are also invisible to search systems like Google News. Without any sites that are truly persistent in search or social, these two kinds of placements end up being ghosts online."
Choosing legitimate, ethical, and transparent services like Send2Press Newswire, says Simmons, are a far better choice — as using "ghost posts" will only scare away clients in the long run. Send2Press combines short term placements via the AP, with persistent "long tail marketing" placement on high traffic business and entertainment websites.
Simmons adds, "Choose a service that can demonstrate actual syndication placements that matter, with high visibility, and which also offer some persistence."
Send2Press, online since 2000*, offers best in class affordable press release distribution and writing. News appears on legitimate news portals, APnews website, AP syndication, social media and high visibility on Google News and other news channels and data platforms.
Send2Press, a service of Neotrope, was ranked best overall of the top 6 newswire services by Fit Small Business in 2020. Parent, Neotrope, was an Inc. 5000 listed company in 2009.
Neotrope®, a marketing, entertainment, and technology company, launched in 1983 by Christopher Laird Simmons and the late Dr. JL Simmons, is celebrating its 40th anniversary in 2023.
(*Verifiable via Archive.org for Send2Press homepage in the year 2000.)
About Send2Press:
Send2Press®, founded in 2000, offers affordable press release distribution, writing, and social media marketing. Send2Press was named "best overall" of the top six press release services in 2020 by Fit Small Business. Send2Press is a dba of Neotrope, founded in 1983 in California.
Send2Press was the first true newswire service to be entirely made up of public relations and marketing professionals (including PRSA members), ex-magazine staffers, and published authors. This provides a better boutique experience versus other services with only sales people and copy editors on staff.
Send2Press has consistently been ranked one of the top newswire services overall based on honesty and credibility, with exceptional ratings from customers on sites like Trustpilot.
Learn more about Send2Press® at: https://www.Send2Press.com/
Send2Press Newswire offers:
Professional press release writing with accredited staff
Local, regional, or national targeted press release distribution to both U.S. daily media and trade periodicals
Social media sharing with custom tags and over 275,000 monthly impressions for our social channels
National syndication via the AP, including the AP website, all U.S. AP newsrooms and online syndication to U.S. newspaper and broadcast sites, with free photo
Placement on top-ranked business and finance sites including Digital Journal, eNewsChannels, Street Insider, BENZINGA, Apple News, and Google News, among others
Placement in the Neotrope News Network, Go Media Network and selected international news platforms in Canada, Germany, India/Asia, and the Middle East
Agency pricing for all™ with "pay as go" packages; no membership fees or subscriptions
View current plans and pricing at: https://www.send2press.com/services/price-list.shtml
View current client projects at: https://www.send2press.com/wire/
About Neotrope:
Since 1983 Neotrope® has delivered services to raise organization awareness including brand identity, marketing, public relations (PR), and social media services. Based in Temecula, California (wine country!), Neotrope is also an entertainment publishing company involved in books, music, software, sound design, video and more.
The company was co-founded by author, artist, journalist, musician and marketing/PR expert, Christopher Laird Simmons, and the late Dr. JL Simmons, PhD, a best-selling author and respected university professor.
The company has been a consistent leader in new technologies including direct marketing, digital design, ecommerce, multimedia, SEO and e-marketing for 40 years. Neotrope was an Inc. 5000 company in 2009, has a 25-year A+ rating with the BBB, and is a member of GS1. Neotrope.com
LEGAL NOTE: Send2Press® and Neotrope® are U.S. registered trademarks and service marks. Neotrope is a registered trademark in Europe.
News Source: Neotrope