KISSIMMEE, Fla., Aug. 7, 2023 (SEND2PRESS NEWSWIRE) — With an equal affinity for surgical intervention and conservative care, Vanisaben Patel, DPM, knows a thing or two about balance. Specializing in everything from reconstructive surgery to diabetic wound care, Dr. Patel's range illustrates her depth as a practitioner. This week she will step into her new office with Modern Foot & Ankle for the first time, ready to serve the Kissimmee community with her compassionate approach to podiatric healthcare.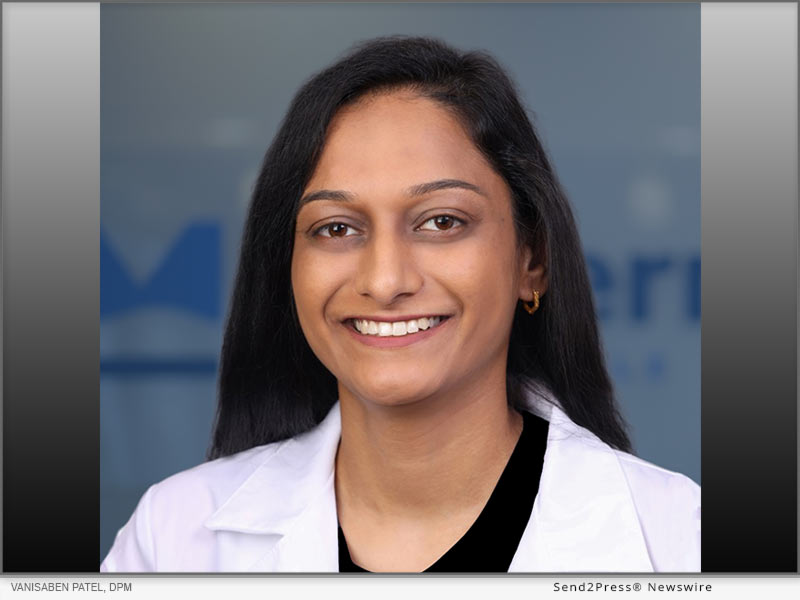 Image Caption: Vanisaben Patel, DPM.
"I love being a foot and ankle specialist because I played a lot of sports growing up and I had a widely-respected podiatrist who always kept me on my feet," said Dr. Patel. "I aspire to create that same standard of care for my patients."
A major factor in Dr. Patel's decision to join Modern Foot & Ankle was learning about the multiregional podiatric group's dual emphasis on advanced technologies and patient comfort.
"Modern Foot & Ankle has a family-friendly environment and wants to be a part of the community," she explained. "I'm excited to join a group that has such an even mix of technology-based and patient-centric care."
Evenness and balance are attributes that continue to characterize Dr. Patel's medical career. She has performed thousands of surgeries and been exposed to a comprehensive range of pathologies while operating in an emergency room setting. These experiences, she says, acutely sharpened her skills in both areas.
"My medical and post-grad training involved a heavy clinical and surgical load that exposed me to all sorts of traumas, pathologies, and patient problems," said Dr. Patel. "Due to this I am a well-trained physician who can provide my patients with the resources they need to heal."
She noted that she's been trained to use the newest technologies and surgical techniques for both elective procedures, such as bunion corrections, and complex fractures.
"I have a passion for surgical intervention, when it's necessary, but I also love the clinical side of podiatry," she said. "My goal is to have a busy clinic with a strong surgical schedule."
Dr. Patel's determination to provide first-rate care enables her and her patients to thrive. And by offering extended office hours, advanced on-site equipment, and little-to-no-wait appointments, Modern Foot & Ankle is a natural fit for her.
"It's easy to get up every day and head to work ready to help patients when you're supported by such a full-scope practice," she affirmed.
After living in various cities around Florida to complete her education and training, Dr. Patel says she is excited to move close to her hometown in Brevard County.
"My favorite aspect about the area is that it's a melting pot—people from all over the world move to Orlando and contribute to its unique and dynamic culture," she said. "The people of Kissimmee are warm and welcoming, which is exactly the type of community my husband and I are looking to build our lives in."
Besides becoming the new primary provider at the Kissimmee clinic, located at 3070 Loopdale Lane, Dr. Patel will also offer evening hours at the Celebration office on Tuesdays. To schedule an appointment with her, visit book.mfahealth.com.
About Modern Foot & Ankle®
Through Big-City Technology. Small-Town Care.® Modern Foot & Ankle is reshaping the patient experience and curating a progressive model for podiatric healthcare. Our physicians provide comprehensive medical and surgical solutions for foot and ankle conditions in clinics across Central Florida and South Florida. With 24/7 online booking and check-in, extended office hours, advanced on-site equipment, and cutting-edge treatment options, Modern Foot & Ankle serves patients efficiently, comfortably, and on their schedule.
For more information, visit https://www.modernfootankle.com/.
Contact: Lindsay Siegel, Modern Foot & Ankle
Phone: (813) 549-5678
Email: marketing@mfahealth.com
News Source: Modern Foot and Ankle