American Friends of Capodimonte Newsroom - Profile and News Archive
American Friends of Capodimonte (AFC) is a 501(c)(3) non-profit organization created to bring awareness about one of the world's greatest museums to an English-speaking audience. The AFC's Fellowship is the only U.S. program to offer young American art historians the experience of working in an Italian museum. AFC members receive exclusive access to Capodimonte Museum and Royal Park, U.S. events related to the museum's collection and priority on custom trips to Naples and beyond.
Engage with American Friends of Capodimonte
Learn more online at: http://www.americanfriendsofcapodimonte.info/
Follow:
Press Releases from American Friends of Capodimonte :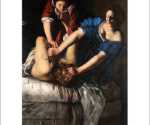 CHICAGO, Ill., Sept. 12, 2019 (SEND2PRESS NEWSWIRE) — It is with great pleasure that the American Friends of Capodimonte (AFC) announce the first U.S. traveling exhibition of 40 Renaissance and Baroque masterpieces, most of which have never been viewed by an American audience, from the Capodimonte Museum in Naples, Italy; the royal palace built in 1738 by Charles of Bourbon, King of Naples and Sicily (later King Charles III of Spain).