KLLM Transport Services Newsroom - Profile and News Archive
KLLM Transportation Services (KLLM) is one of the largest and most prestigious truckload, temperature-controlled carriers in North America with services also into Mexico. Headquartered in Jackson, Miss., KLLM offers a range of transportation solutions including Over-the-Road (OTR), Regional, Dedicated, Intermodal, and Logistics. KLLM delivers unrivaled service to some of North America's largest brands each day and has done so for more than 55 years since its founding in 1962.
Engage with KLLM Transport Services
Learn more online at: https://www.kllm.com/
Press Releases from KLLM Transport Services :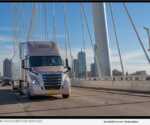 JACKSON, Miss., Dec. 1, 2020 (SEND2PRESS NEWSWIRE) — KLLM Transport Services (KLLM), one of the leading temperature-controlled, truckload carriers in North America, is set to roll out one of the largest driver pay increases in company history over the coming weeks.