Morrison Outdoors Newsroom - Profile and News Archive
Morrison Outdoors was born from a desire to make camping with a baby just a little bit easier. Their patent-pending Little Mo Baby Sleeping Bag is the first 20-degree (F) sleeping bag designed to meet all AAP Guidelines for SAFE Infant Sleep.
Tavis Malcolm, an Eagle Scout, designed their line of Baby Sleeping Bags with his wife, Amber Malcolm, a registered nurse with pediatric experience. Using techniques he learned online and a 1970s-era sewing machine that Amber had found being given away for free, Malcolm turned their unheated Denver-area garage into a makeshift sewing studio in order to develop their patent-pending design.
Engage with Morrison Outdoors
Learn more online at: https://www.morrisonoutdoors.com/
Follow: Twitter | Facebook | Instagram | YouTube
Press Releases from Morrison Outdoors :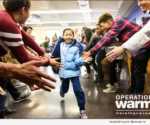 ALBUQUERQUE, N.M., Dec 3, 2019 (SEND2PRESS NEWSWIRE) — Just a few weeks before their first birthday, Morrison Outdoors is joining the Pledge 1% movement and donating 1% of all revenue from 2019 to Operation Warm, a registered non-profit providing new winter coats for children who need them.
ALBUQUERQUE, N.M., Oct. 4, 2019 (SEND2PRESS NEWSWIRE) — Morrison Outdoors, just 7 months removed from their launch campaign on Kickstarter, have brought their line of Little Mo Baby Sleeping Bags to over 60 REI locations across the U.S.