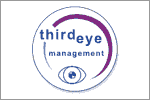 Third Eye Management and Associates Inc. Newsroom - Profile and News Archive
Third Eye Management & Associates is committed to offering the highest quality advice and training across specialist areas of business management and marketing for our clients.
This is achieved through our personal commitment to excellence and our ability to listen, involve and harness the experience and skills of both parties to arrive at the best possible solutions for our clients. We aim to impress our clients with our professionalism and to build close, long-term relationships, treating each assignment as the ultimate challenge.
We draw satisfaction from the quality of the work we deliver and we support the philosophies of skill transfer and empowerment, enjoying the success and benefits they create. We are sensitive to our clients' point of view and never forget that they employ us for our expertise, which we must ensure we communicate with confidence. We achieve these goals by thinking global and acting local.
Engage with Third Eye Management and Associates Inc.
Learn more online at: http://www.thirdeyemanagement.com/
Follow: Twitter | Facebook | Instagram | LinkedIn | YouTube
Press Releases from Third Eye Management and Associates Inc. :