LOS ANGELES, Calif. and CAMPI BISENZIO, Italy, Nov. 16, 2023 (SEND2PRESS NEWSWIRE) — Responding to a call from the civil protection department in early November, Scientology Volunteer Ministers reached out to the municipality of Campi Bisenzio with help. The Bisenzio River, for which the town is named, had overflowed, wreaking havoc.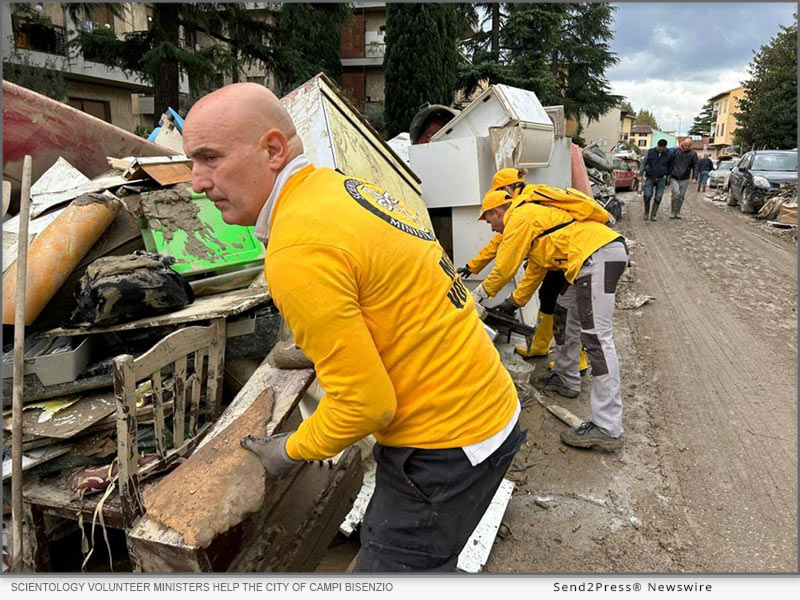 Photo Caption: Scientology Volunteer Ministers responded to the call from the civil protection department to help the city of Campi Bisenzio recover from unprecedented flooding in early November.
Hurricane-force winds of Storm Ciarán tore through Central Italy, causing severe flooding, toppling power lines and trees, sweeping away cars, and leaving entire areas submerged. Once the flood waters receded, it revealed the extent of cleanup needed. And it was immense.
Arriving with trucks, bobcats, mini-bulldozers and excavators, the Volunteer Ministers' first task was to dig up and haul away mud and debris that was blocking the roads, making it possible for emergency workers to access homes and businesses in need of help. Then they tackled the arduous job of helping residents dig out from the mud and salvage what possessions they could.
In the aftermath of floods, it is vital to remove waterlogged furniture and carpeting and allow the buildings to fully dry, as mold and mildew can create health hazards for those with weakened immune systems.
In addition to the physical aid they provide, Scientology Volunteer Ministers are trained to help victims of disaster overcome the confusion, disorientation and despair that often affect victims of such calamities. They provide Scientology assists—techniques developed by Scientology Founder L. Ron Hubbard that address the emotional and spiritual factors in stress and trauma.
The Church of Scientology Volunteer Ministers program is a religious social service created in the mid-1970s by Mr. Hubbard. It constitutes one of the world's largest independent relief forces.
In the wake of the 9/11 terrorist attacks in 2001, Scientology ecclesiastical leader Mr. David Miscavige called on Scientologists to redouble their efforts to aid their fellow man, which inspired astonishing growth within the Volunteer Minister movement. In response, Volunteer Ministers of Italy formed the Civil Protection Volunteers of the Scientology Community, Pro.Civi.Co.S, which was entered into the registry of the National Department of Civil Defense and is on call throughout the year to respond to disasters great or small.
Over the past two decades, Pro.Civi.Co.S and the Volunteer Ministers of Italy have responded to disasters at home and abroad, providing relief after the L'Aquila and Amatrice earthquakes in Italy, the South Asian tsunami of 2004, the Haiti earthquake of 2010, the 2019 Albania earthquake, the 2020 Croatia earthquake, and throughout the Covid pandemic.
A Volunteer Minister's mandate is to be "a person who helps his fellow man on a volunteer basis by restoring purpose, truth and spiritual values to the lives of others." Their creed: "A Volunteer Minister does not shut his eyes to the pain, evil and injustice of existence. Rather, he is trained to handle these things and help others achieve relief from them and new personal strength as well."
For more information, visit the website of the Scientology Volunteer Ministers, or learn about the technology used by the Scientology Volunteer Minister by watching Scientology Tools for Life on the Scientology Network, available in 17 languages on DIRECTV Channel 320, DIRECTV STREAM, AT&T U-verse and streaming at Scientology.tv, on mobile apps and via the Roku, Amazon Fire and Apple TV platforms.
LEARN MORE:
https://www.volunteerministers.org/
https://www.scientology.org/churches/ideal-orgs/rome-italy/
https://www.scientology.org/how-we-help/volunteer-ministers/
https://www.scientology.tv/films/scientology-principles/tools-for-life.html
MULTIMEDIA:
https://www.youtube.com/watch?v=Su1NKhyhIp8&t=1s
PHOTO link for media: https://www.Send2Press.com/300dpi/23-s2p-1116-coscampi-300dpi.jpg
Photo Caption: Scientology Volunteer Ministers responded to the call from the civil protection department to help the city of Campi Bisenzio recover from unprecedented flooding in early November.
TAGS: #ChurchofScientology #StormCiaran #ScientologyVolunteerMinisters #CampiBisenzio #ChurchofScientologyRome
News Source: Church of Scientology International