DEERFIELD BEACH, Fla., April 17, 2023 (SEND2PRESS NEWSWIRE) — The Pap Corps Champions for Cancer Research is delighted to announce that the third Sylvester Game Changer vehicle was officially revealed during the Presidents' Meeting at Boca West Country Club on April 13, 2023. The 70-year-old nonprofit funded the creation of this air-conditioned vehicle, in partnership with Sylvester Comprehensive Cancer Center, part of UHealth — University of Miami Health System, to bring cancer screenings and education to the underserved communities in Broward and Palm Beach counties.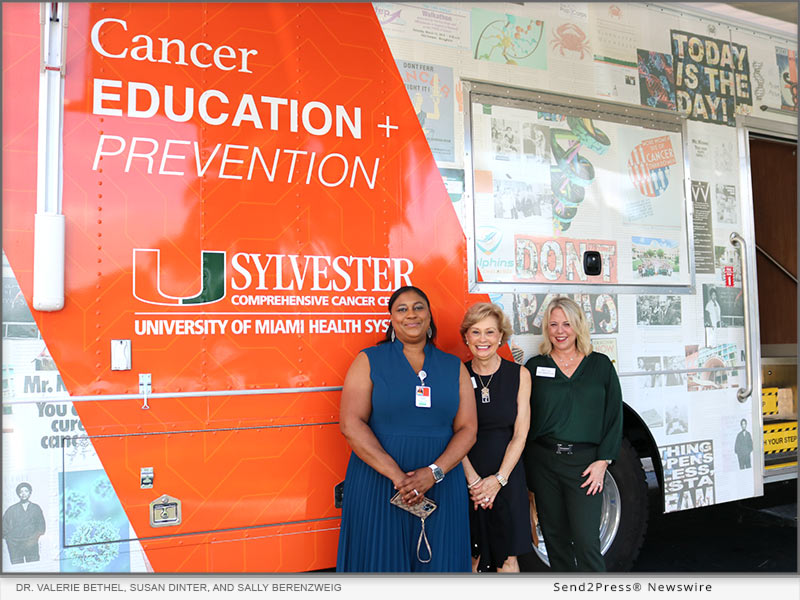 Photo Caption: Dr. Valerie Bethel, Susan Dinter, and Sally Berenzweig.
"The Pap Corps' 2019 Dr. Kevin Berkowitz End of Year Giving Campaign provided $500,000 for the creation of the third Sylvester Game Changer vehicle," stated Susan Dinter, Chair, The Pap Corps. "While our organization typically funds cancer research, we firmly believe early detection leads to more successful cancer outcomes. We are very proud that the Sylvester Game Changer vehicle will be offering free cancer screenings and education to thousands of people every year."
The third Sylvester Game Changer vehicle, which is the largest-to-date, is co-branded with logos of both The Pap Corps and Sylvester Comprehensive Cancer Center to further expand awareness about the special relationship between the nonprofit and South Florida's only NCI-designated cancer center. The converted tractor freightliner is equipped with two private rooms for consultations, a full phlebotomy area, and a multimedia area for interactive education about cancer-related topics. The vehicles all feature artistically designed exteriors by world-renowned Neo-Pop artist Peter Tunney.
"We are honored that The Pap Corps partnered with us on this important initiative," said Dr. Erin Kobetz, Ph.D., M.P.H., associate director of population science and cancer disparities at Sylvester Comprehensive Cancer Center. "Since its launch in 2017, the Sylvester Game Changer vehicles have served over 42,000 people in the community, and have been closing gaps in accessing cancer education, screenings, while breaking down historical skepticism about research. With this third vehicle, we will be expanding our presence and working alongside even more communities to address and eliminate cancer disparities."
"We are honored to showcase our Sylvester Game Changer vehicle at this Presidents Meeting, stated Sally Berenzweig, CEO, The Pap Corps. "Our Pap Corps members worked diligently to support the creation of this Game Changer vehicle and are thrilled for the opportunity for this preview."
About The Pap Corps:
Since its founding in 1952, The Pap Corps, a 501©(3), has donated more than $110 million to Sylvester Comprehensive Cancer Center at the University of Miami Miller School of Medicine, including a historic $50 million pledge in 2016. The Pap Corps derives its name from Dr. George Papanicolaou, a pioneer in cytopathology and early cancer detection, who introduced the world to the revolutionary 'Pap' test. A small group of women began the organization to support his efforts, and over the decades it has grown into an organization of over 20,000 men and women, in over 50 chapters, raising funds to support research for all types of cancers.
Learn more: https://www.thepapcorps.org/
About Sylvester Comprehensive Cancer Center:
Sylvester Comprehensive Cancer Center, part of UHealth — University of Miami Health System and the University of Miami Miller School of Medicine, is the only National Cancer Institute (NCI) designated and nationally ranked cancer center in South Florida. NCI designation recognizes that Sylvester has met the most rigorous standards for cancer research, beginning in our laboratories, extending to patient care, and meeting specific needs in our community.
Sylvester is known as South Florida's leader in patient-focused cancer research and care, offering the only Phase 1 Clinical Trials program – the first step in evaluating how patients respond to the latest investigational treatments. NCI designation further expands Sylvester's ability to provide access to novel therapies through more clinical trials and collaboration with other designated centers. Equipped with a highly qualified team of more than 2,400 cancer-focused physicians, researchers and support staff working together, Sylvester discovers, develops, and delivers more precision cancer care. To serve current and future patients, Sylvester has a network of conveniently located outpatient treatment facilities throughout South Florida.
Learn more: https://umiamihealth.org/sylvester-comprehensive-cancer-center
News Source: The Pap Corps