WILMINGTON, Del., Sept. 21, 2023 (SEND2PRESS NEWSWIRE) — Delaware is not typically known for being a fashion hub, but three incredible women from this state have made a splash in the fashion world and been featured in Vogue; one of the most prestigious fashion magazines in the world. "What's even more impressive, is that these three three are not the ones you would typically expect," Danielle Alura said.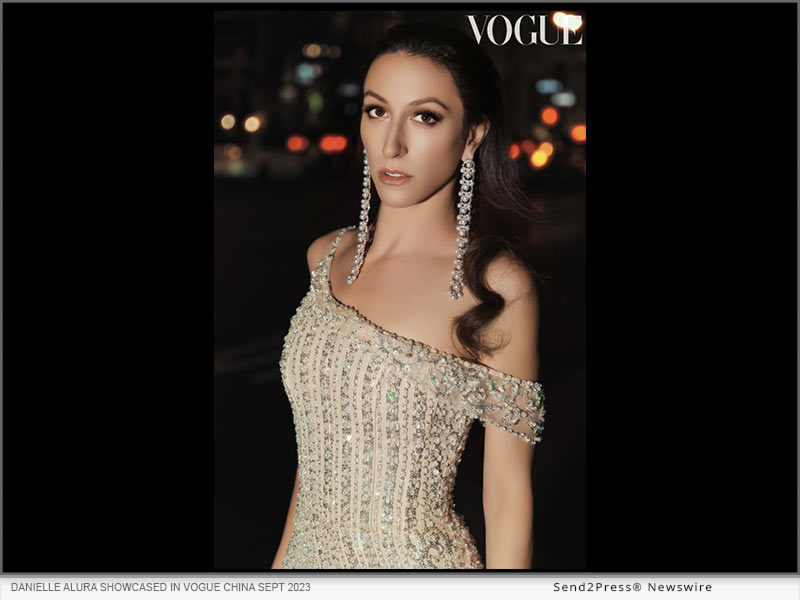 Image Caption: Danielle Alura showcased in VOGUE CHINA Sept 2023.
First is Asata Maise, a fashion designer who has been making waves in the industry with her bold and eclectic designs. Asata, who was born in Liberia and raised in Wilmington, draws inspiration from her African roots and her experiences living in different parts of the world. Her designs are a unique blend of traditional African textiles and modern silhouettes. Most notably her designs have been worn by celebrities like Beyoncé and Solange Knowles. With her innovative approach to fashion, Asata is quickly becoming a name to watch in the industry.
Aubrey Plaza has graced the pages of Vogue on multiple occasions, each time leaving an indelible mark with her distinctive presence. Her recurrent appearances in Vogue can be attributed to her ability to effortlessly merge her offbeat charisma with the world of high fashion. Plaza's allure lies in her capacity to defy conventions and bring a refreshing authenticity to the glossy pages, capturing the attention of both readers and fashion enthusiasts alike. With every feature, Plaza not only showcases her individuality but also underscores her evolving versatility as a performer and style icon, making her a sought-after muse for the esteemed fashion magazine.
The latest of these individuals from Delaware gracing VOGUE is Danielle Alura; a multi talented artist who has been taking the hottest red carpets, NYC billboards and media by storm. Danielle was clothed by Jovani and the shoot took place in Manhattan. The location of the photoshoot for VOGUE China brings life full circle for Danielle Alura, who was born in NYC and raised in Delaware.
This is not the first time Danielle has hit it big in China. She was a star in China's "SIUF," a runway show like fashion week on tv as one of 32 supermodels walking for each bikini and lingerie designer. She has been making waves in the entertainment industry for some time now; Danielle has acted on major upcoming TV shows like "Bad Monkey" starring Vince Vaughn, singing on stages around the world, winning the title of Miss Global USA 2023 and will be representing our country at the Miss Global International pageant.
All three of these ladies' success in the fashion industry are a testament to their dedication to their dream, hard work against all odds, and inspiring consistency. It's amazing to think that three women from a small city like Wilmington, Delaware have made such a big impact in the fashion and entertainment world. Their success serves as a reminder that talent can come from anywhere, and that it's never too late to pursue your dreams. Big dreams can come from small towns and the sky's not the limit when it comes to pursuing your passions.
Vogue PHOTO link for media: https://www.vogue.com.cn/fashion/brand_news/news_15226f2c6ee5a150.html
Photo caption: Danielle Alura showcased in VOGUE CHINA Sept 2023.
Instagram: https://www.instagram.com/daniellealura
TikTok: @danialura
https://www.instagram.com/asata.maise/?hl=en
https://www.instagram.com/plazadeaubrey/
News Source: Danielle Alura