NEPTUNE, N.J., March 21, 2012 (SEND2PRESS NEWSWIRE) — Move For Hunger is proud to announce the partnership of Victory Packaging at the Champion Level. While Victory Packaging has been a gracious partner of Move For Hunger since 2010, they are strengthening their relationship for 2012 by increasing their support from Mission to the Champion level.
As well as generous financial support, Victory's partnership allows Move For Hunger to sell boxes and packaging materials at discount rates to food banks, saving hunger relief organizations' valuable resources from being spent on support materials like boxes and tape instead of life-saving meals. Victory's national reach affords Move For Hunger the opportunity to assist food banks all over the continent, regardless of their location.
"Move For Hunger is so happy to be continuing and bolstering our relationship with Victory Packaging," says Gavin Christiansen, director of operations at Move For Hunger. "Their enthusiastic support and invaluable resources make it easy for Move For Hunger to offer even more assistance to food banks and their partner agencies."
Victory Packaging, headquartered in Houston, Texas, is the leading distributor of packaging materials in North America. Their numerous locations and vast warehouse facilities offer a range of innovative packaging solutions for a diverse customer base.
About Move For Hunger:
Move For Hunger is a 501(c)3 non-profit organization that works with relocation companies across the country to pick up unwanted, unopened food from those who are moving and deliver it to local food banks across the country. To date, Move For Hunger is working with over 250 movers in 40 states and has collected more than 420,000 pounds of food. For more information or to find out how you can help support Move For Hunger, visit http://www.MoveForHunger.org .
About Victory Packaging:
Based in Houston, Texas, Victory Packaging has more than 60 warehouse and distribution facilities in the United States, Canada and Mexico, and operates in California under the company name of Golden State Container.
Victory Packaging is the only North American distribution company dedicated entirely to reducing total cost with comprehensive, integrated packaging solutions. Victory Packaging delivers innovative services and enhanced packaging processes to a diverse customer base. Its national network includes more than 5 million square feet of warehouse space and approximately 350 delivery vehicles. Victory Packaging is a privately-held limited partnership and employs approximately 1,000 people. For more information visit, http://www.victorypackaging.com .
News issued by: Move For Hunger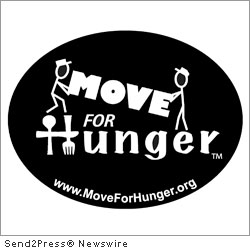 Original Image: https://www.send2press.com/wire/images/11-1129-moveforhng_72dpi.jpg
# # #
Original Story ID: 2012-03-0321-004 (7765) :: 2012-03-0321-004
Original Keywords: Gavin Christiansen, Victory Packaging, Corporate Social Responsibility, charity, nonprofit, feed the hungry, non-profit, New Jersey, Houston, TexasHouston, Texas, food, warehouse and distribution facilities Move For Hunger Neptune New Jersey NEPTUNE, N.J.
Alternate Headline: Move For Hunger is proud to announce the partnership of Victory Packaging at the Champion Level
NEWS ARCHIVE NOTE: this archival news content, issued by the news source via Send2Press Newswire, was originally located in the Send2Press® 2004-2015 2.0 news platform and has been permanently converted/moved (and redirected) into our 3.0 platform. Also note the story "reads" counter (bottom of page) does not include any data prior to Oct. 30, 2016. This press release was originally published/issued: Wed, 21 Mar 2012 16:43:38 +0000
News Source: Move For Hunger