NEW YORK, N.Y., Oct. 10, 2023 (SEND2PRESS NEWSWIRE) — Leading software provider 4DDiG (a Tenorshare brand) is proud to announce the release of the latest version of its Mac file repair tool, 4DDiG File Repair for Mac 3.0.0. This version introduces exciting new features, including audio repair and document repair, providing Mac users with a more comprehensive solution.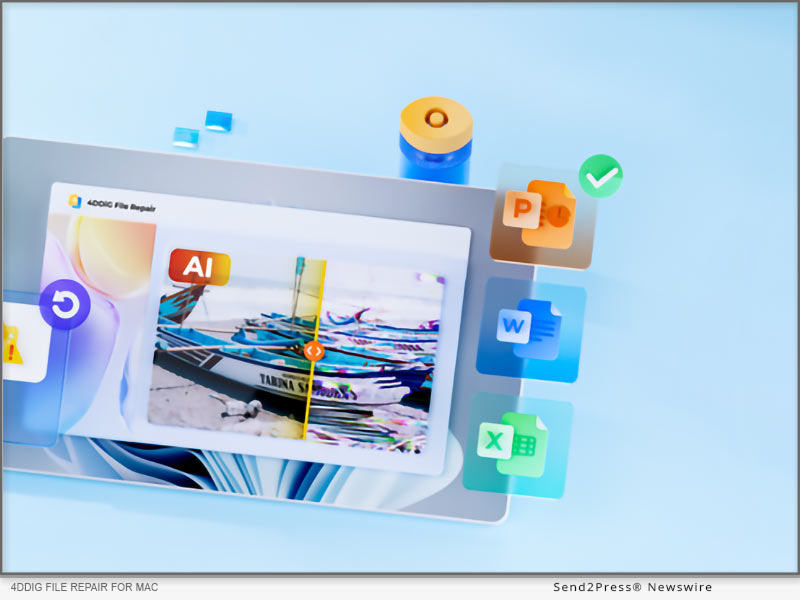 Image Caption: 4DDiG File Repair for Mac 3.0.0.
What can 4DDiG File Repair for Mac do for you now?
4DDiG File Repair for Mac has been a trusted companion for Mac users, and now, with the launch of version 3.0.0, it's better than ever. Here are some of its key feature:
Document and Audio Repair (Latest Feature): The most notable aspect of this update is the introduction of new document and audio repair features. Whether you've encountered corrupted Office documents or problematic Adobe files, 4DDiG File Repair for Mac has got you covered.
Video and Photo Repair: Never worry about corrupted video and photo files again. 4DDiG File Repair for Mac 3.0.0 effortlessly restores these digital files to their original state with just a few clicks.
AI-Powered Enhancement and Colorization: 4DDiG File Repair for Mac not only repairs damaged files but also serves as a powerful AI enhancer. It can upscale low-quality videos to stunning 4K or 8K resolution and transform black and white photos into vibrant color.
Why 4DDiG File Repair for Mac Is Your Go-To Digital File Solution?
While there are many excellent options available on the market, 4DDiG File Repair for Mac stands out with its simplicity and versatility.
Cost-Effective Pricing: Compared to competitors, 4DDiG File Repair for Mac offers more features at a budget-friendly price point. Additionally, 4DDiG is running a promotion for the macOS Sonoma release. Participate in the draw for a chance to win a brand-new MacBook Air and Amazon e-gift cards.
Perfect Fusion of Repair and Enhancement: Whether you need to repair corrupted files or take your multimedia to the next level, 4DDiG File Repair for Mac is your all-in-one solution.
User-Friendly Interface: The software is designed to be user-friendly and intuitive, suitable for Mac users of all skill levels. Whether you're a novice or a pro, you'll find it easy to navigate.
Compatibility: It supports the T2 chip, M1, M1 Pro, M1 Max, and the newly released macOS Sonoma, ensuring seamless operation and stability.
About 4DdiG:
Over the past decade, 4DDiG has been on a mission to innovate and meet user demands, consistently delivering efficient solutions. This relentless focus on enhancing the overall user experience has established 4DDiG as a trusted and go-to brand for both individuals and businesses alike. Besides file repair, 4DDiG also provides a range of other solutions for Mac users, such as data recovery, addressing common Mac boot issues, and removing duplicate files.
For more information, visit: https://4ddig.tenorshare.com/file-repair.html
Official Website: https://4ddig.tenorshare.com/
Follow on Social:
Facebook: https://www.facebook.com/4DDiG/
X/Twitter: https://twitter.com/Tenorshare4DDiG
YouTube: https://www.youtube.com/@Tenorshare4DDiGDataRecovery/featured
News Source: Tenorshare Co. Ltd.