NEW YORK, N.Y., Oct. 16, 2023 (SEND2PRESS NEWSWIRE) — Tenorshare, a leader in digital device solutions, is excited to launch its redesigned website, vowing to deliver a groundbreaking user experience. Embracing the brand concept "Better Software, Better Life," the company is dedicated to crafting user-friendly, cross-device solutions for Android and iOS users worldwide. They offer a range of tools for iPhone and Android users, covering repair, unlocking, data transfer, and recovery, all designed to simplify your digital life.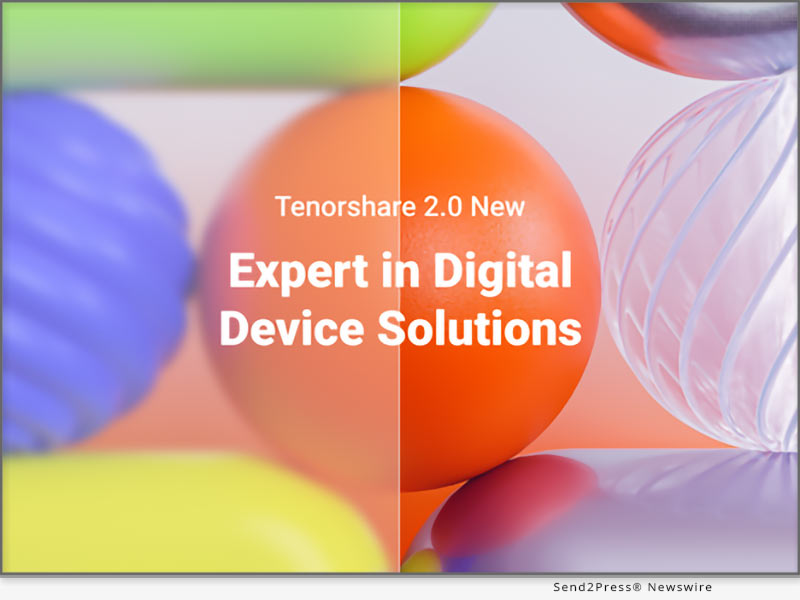 Image Caption: Tenorshare 2.0 – Expert in Digital Device Solutions.
VIDEO (YouTube): https://www.youtube.com/watch?v=J2iSSnz2CMM
What Does "Better Software, Better Life" Mean?
Having high-quality, efficient software in our daily lives makes everything smoother, more convenient, and enjoyable. Think of it as the digital equivalent of having well-made tools – it simplifies tasks and improves our overall experience.
As a Tenorshare spokesperson puts it, "With Tenorshare ReiBoot, you can conveniently resolve iOS and macOS system issues at home without data loss. This not only saves valuable time and effort but also enhances the overall quality of life, making it more convenient and effortless."
What Exciting Changes Does Tenorshare's Website Redesign Bring?
Tenorshare's redesigned website enhances the user experience with visual appeal and streamlined navigation. It optimizes layout and information architecture to simplify user interactions further and promote intuitive navigation.
Furthermore, the site integrates efficient and transparent UI and UX features for easy access to information on Tenorshare software solutions.
Tenorshare ReiBoot: As the No. 1 iOS system repair tool by Tenorshare, it can fix 150+ iOS issues at home. It can eliminate the iPhone's unresponsive and black screens, endless recovery mode cycles, and being stuck on the Apple logo. Moreover, To better serve our users, Tenorshare has implemented AI technology into Repair & Recovery software.
Learn more: https://www.tenorshare.com/products/reiboot.html
Tenorshare 4uKey: It can remove iOS screen locks, MDM lock, profile, Face and Touch IDs, screen time passcode , and Apple ID without a password.
Learn more: https://www.tenorshare.com/products/4ukey-unlocker.html
Tenorshare iAnyGo: Not only can it change the GPS location to anywhere without jailbreak or root, but it also modifies movement direction with the GPS joystick. It works with all location-based apps, such as Pokemon GO, Monster Hunter Now, etc.
Learn more: https://www.tenorshare.com/products/ianygo-change-gps-location-iphone.html
Tenorshare 4uKey For Android
Tenorshare 4uKey For Android: Easily get rid of Android password, PIN, pattern lock, fingerprints, and face ID on 3000+ Android devices with this tool. Plus, bypass FRP without a password or Google account and regain access to your device.
Learn more: https://www.tenorshare.com/products/android-password-reset-tool.html
LAUNCH PROMOTION:
The enhanced website helps users make informed choices about the software they want, allowing them to pick the right solution for their requirements.
What's more, you can get 30% off by entering coupon code "tenorshare2023new" during the launch.
About Tenorshare:
Tenorshare's mission centers on iOS, Android, Windows, and Mac technology. Since 2007, the company has been offering practical solutions for content management, data recovery, password retrieval, and system repair with users worldwide.
Their founding philosophy revolves around solving all your tech problems, and they're dedicated to addressing your mobile and computer needs.
More information: https://www.tenorshare.com/
SOCIAL SITES:
Facebook: https://www.facebook.com/TenorshareOfficial/
X/Twitter: https://twitter.com/Tenorshare_Inc
YouTube: https://www.youtube.com/user/TenorshareOfficial/videos
TikTok: https://www.tiktok.com/@tenorshare_tech_tips
News Source: Tenorshare Co. Ltd.