WILLISTON, Fla., Feb. 2, 2018 (SEND2PRESS NEWSWIRE) — Guardian Angels Medical Service Dogs, Inc. is a national 501(c)(3) non-profit, located in Williston, Fla. On January 20, 2018 its Founder and CEO, Carol Borden and National Canine Program Director, Nate Burney were at the Mayflower Hotel in Washington, D.C. to accept the 2018 VETTY Award for outstanding efforts in Veterans Mental Health.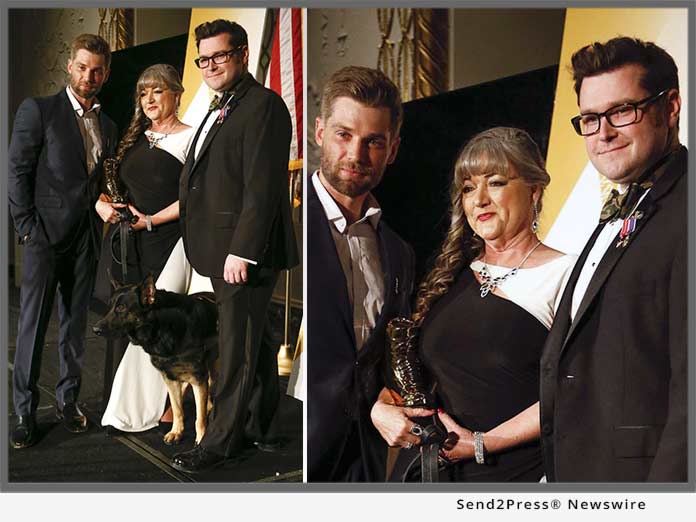 In choosing Guardian Angels for this distinguished award, the board of governors of AUSV state: "Recipient (GAMSD) has made a significant difference in the lives of veterans whose wounds can't be seen. Recipient has provided services/methods to replace feelings of despair with hope."
Carol Borden, Founder and Chief Executive Officer said: "We're just so proud of everyone connected with our organization. From staff to volunteers and foster trainers, everyone involved truly cares about making a difference for our veterans and first-responders. It is a great honor to have our work with veterans recognized by the Academy of United States Veterans."
Guardian Angels Medical Service Dogs was honored to stand beside several deserving veterans' charities, veterans, and individuals who were also recognized at the black tie gala, including:
Leadership: Sarah Verardo, Executive Director, The Independence Fund
Education: Dustin Perkins, Director of Marketing, Student Veterans of America, Illinois
Employment: Bunker Labs
Community: National Veterans Legal Services Program
Honorary Vetty: Steven D. Vincent, Senior Business Development Manager, Tiag
Honorary Vetty: George A. Chewning, II, Director of Governmental Affairs, Global War on Terror Memorial Foundation
Honorary Vetty: Jake Tapper of CNN, Chief Washington Correspondent, CNN who also hosted the evening.
The line-up of esteemed presenters and speakers included: Montel Williams; VA Secretary, David Shulkin; White House Chief of Staff, General John Kelly; actresses Anne Heche and Shohreh Aghdashloo; veteran and NFL player Nate Boyer as well as Mark Rockefeller.
Actor Mike Vogel, who along with Veteran and Bronze Medal Recipient, Matt James presented the award.
Several business leaders were also in attendance, including Eric Mitchell of LifeFlip Media, Eli Crane of Bottle Breacher, Sal DeFranco of Battle Grounds Coffee, and Travis McVey of Heroes Vodka.
Academy of United States Veterans (AUSV) established the annual VETTY awards to recognize those that contribute to the well being of the veteran community.
Our acceptance speech can be viewed on our website at: http://www.medicalservicedogs.org/vetty-award-acceptance-speech-2018/.
About Guardian Angels Medical Service Dogs:
Guardian Angels Medical Service Dogs is a 501(c)(3) non-profit organization based in Williston, Florida and has grown into a nation-wide Service Dog Organization. We rescue, raise, train and donate individually trained medical service dogs to veterans, first responders and others who suffer from disabilities including PTSD, Traumatic Brain Injury, seizure disorders, mobility issues and more.
Guardian Angels receives up to 40 inquiries each day for one of their medical Service Dogs. There is no state or federal funding available for this critical life-saving program. Since their inception in 2010, Guardian Angels has paired more than 220 individually trained medical service dogs with those in need; and with your help, they can do even more.
For more information on our program, visit: http://www.medicalservicedogs.org/.
*Photo for Media: Send2Press.com/300dpi/18-0202s2p-gamd-vetty-300dpi.jpg
*Photo Caption: Founder & CEO of Guardian Angels, Carol Borden and Service Dog, Huey accept the 2018 VETTY award in Mental Health from actor Mike Vogel of The Brave, and Bronze Star Recipient, Matt James.
VIDEO (YouTube): https://youtu.be/0xl1HfPlos0
###
MEDIA ONLY CONTACT:
(not for print or online)
Costs associated with dissemination of this news announcement were donated to the charity by Neotrope® as part of its Non-Profit PR Grants™ program.
News Source: Guardian Angels Medical Service Dogs Inc.