NEW YORK, N.Y., June 6, 2023 (SEND2PRESS NEWSWIRE) — Along with the beginning of June, HitPaw launches the AI Products Promotion named "All From AI|Not Only For AI." It indicates that HitPaw has made the AI to be not just AI, but AI technology that can be applied to specific scenarios, such as enhance video/image quality, remove objects, etc using AI technology.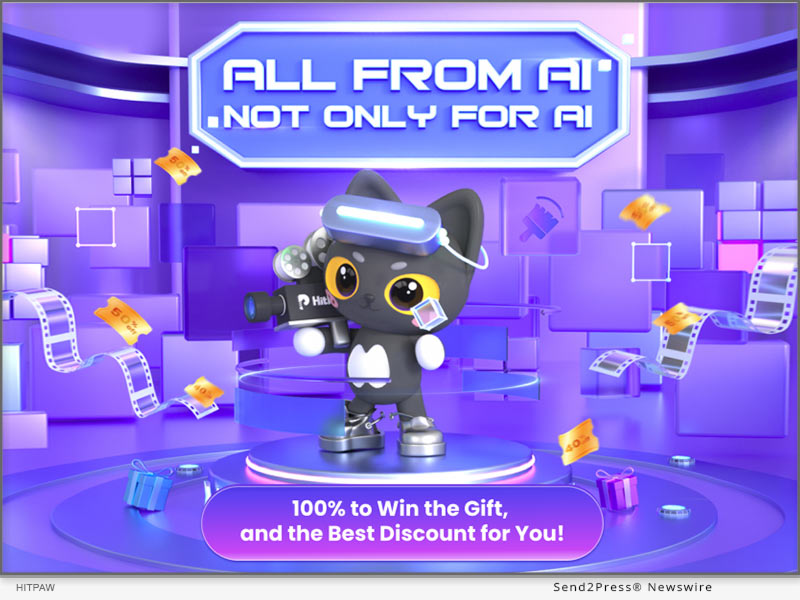 Image Caption: HitPaw AI Assemble Promotion.
Moreover, HitPaw has prepared amazing gifts for participants, including Amazon E-Gift Cards, Free License Codes, Best Discount and Coupon Codes!
100% To Win The Gift
By choosing, clicking and removing the removable objects from the photo with AI technology, enter your valid email address, you can now unpack your gift!
All participants will have 1 chance for the lottery event, and can get 1 Extra chance to participate by sharing the event page to Twitter/Facebook. The event will be valid until June 20, 2023.
Participants will have chances winning Amazon E-Gift Cards, Free License Codes, Best Discount and Coupon Codes!
Best Discount For AI Products
All the AI products are now having up to 30% discount! You could now buy:
HitPaw Photo Enhancer at $55.99/Year for Win & Mac Version
HitPaw Video Enhancer at $69.99/Year for Win & $76.99/Year for Mac
HitPaw Photo Object Remover at $18.19/Year for Win & $20.99/Year for Mac
HitPaw Video Object Remover at $41.99/Year for Win
HitPaw Watermark Remover at $7.99/Year for Win & $15.99/Year for Mac
Save Up To 40% With HitPaw
Along with the lottery and single-item discount, HitPaw also offers the best deal for product bundles this time.
You can enjoy up to 40% discounts of pairwise combinations of different AI products. Check the event page yourself and discover them!
Biggest Surprise
With the Unprecedented offer, you can get a 5-in-1 Family Set of the HitPaw AI Products! (4-in-1 with Mac version)
With only $149.99 for Mac and $169.99 for Windows, you can enjoy the AI services and free upgrade within one year.
How to participate:
For more information or to participate in this event, please visit: https://www.hitpaw.com/sales-promotion.html
About HitPaw:
HitPaw is an emerging software company specialized in multi-media solutions such as video/photo editing, video/photo enhancing, screen recording, watermark removing, etc. We help users turn their inspiration into reality so that we can generate more ideas to make the world be full of more creativity.
To know more, you may visit:
https://www.hitpaw.com/about.html
Our Social Media:
YouTube: https://www.youtube.com/channel/UCQwRggaotgiMcPbiCOsJeBA
TikTok: https://www.tiktok.com/@hitpaw
Facebook: https://www.facebook.com/HitPawofficial
Twitter: https://twitter.com/HitPawofficial
Instagram: https://www.instagram.com/HitPawofficial/
Pinterest: https://www.pinterest.com/HitPawofficialwebsite/
News Source: HitPaw