SINGAPORE, July 20, 2023 (SEND2PRESS NEWSWIRE) — HIX.AI, one of the leading providers of cutting-edge artificial intelligence solutions for individuals and businesses, has proudly announced the official launch of its innovative product, HIX.AI ChatGPT Chrome Extension. It's the most powerful, all-in-one ChatGPT copilot for the web, empowering Chrome users to generate high-quality text and interact with an AI chatbot wherever they are.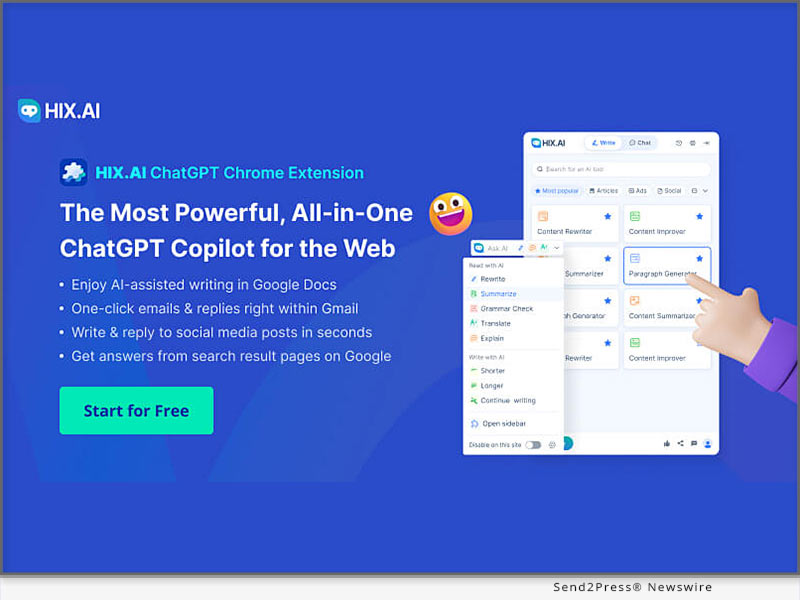 Image Caption: HIX.AI ChatGPT Sidebar.
"Microsoft Bing incorporates an AI sidebar in its primary Edge browser and there is no Chrome version available," stated Camille Sawyer, CEO of HIX.AI. "To address the gap and revolutionize the way we interact with the web, we've created the HIX.AI ChatGPT Chrome Extension," she added. Seamlessly integrated into the Chrome browser, the extension allows users to unleash the capabilities of HIX.AI on any webpage opened with Chrome or by clicking its extension icon.
The HIX.AI ChatGPT Chrome Extension comes with two distinct tabs: Write and Chat. The Write tab offers over 120 writing assistant tools, helping users to generate SEO-friendly, plagiarism-free, and up-to-date content in seconds. Users can use this feature to effortlessly create blog posts, captivating emails and on-point replies, social media posts and contextually-relevant comments, high-converting Google ads, and various other forms of written content. Plus, with customizable options for tone, target audience, and language, the AI-powered writing suite caters to individual preferences and specific requirements. Moreover, it serves as an invaluable tool for refining existing content, providing grammar-checking, paraphrasing, and summarizing capabilities.
The Chat feature of the HIX.AI ChatGPT Chrome Extension enables users to engage with the AI chatbot through text-based prompts. Whether seeking factual information, conducting research, extracting data, comparing products, enhancing written text, or summarizing lengthy articles, users can use the chatbot to handle a lot of things. HIX.AI's chatbot is a more versatile and affordable alternative to ChatGPT. Unlike ChatGPT, HIX.AI's chatbot scours millions of real-time databases, and is able to provide up-to-date responses. Most innovatively, HIX.AI's chatbot can generate visuals that correspond to written instructions and descriptions.
For people whose lives have been entwined with social media platforms like YouTube, Instagram, Facebook, Twitter, Reddit, and Quora, the HIX.AI ChatGPT Chrome Extension proves to be a game-changer. Users can quickly write their social media posts, image captions, and video titles and generate immediate comments and hashtags, all with one click. This functionality boosts efficiency, enhances conversations, stimulates engagement, and helps establish a strong social media presence.
With the HIX.AI ChatGPT Chrome Extension, composing and replying to emails becomes a breeze. Right within users' existing email platforms, they can effortlessly craft professional emails for various purposes as well as replies, all with one single button click, dramatically boosting productivity and elevating workplace professionalism. It can also summarize a received email in an instant, quickly bringing you up to speed. Compatible with leading email services including Gmail, Outlook, and Yahoo Mail, this feature perfectly fits in current email workflows.
This groundbreaking extension revolutionizes the search engine experience by delivering enhanced insights and improving the effectiveness, accuracy, and functionality of the search process. With HIX.AI's responses displayed alongside standard search results, search engine users of Google can gain more insights related to their queries, explore different aspects of their search queries, and instantly grasp definitions or examples.
Camille Sawyer affirms the company's dedication to unlocking the full potential of businesses in an increasingly digital and data-driven world. With the HIX.AI ChatGPT Chrome Extension, the company harnesses the power of state-of-the-art artificial intelligence algorithms and machine learning techniques to make AI solutions accessible to anyone, anywhere on the web.
For more information, please visit: https://hix.ai
RELATED LINKS:
https://hix.ai/chatgpt-chrome-extension
News Source: HIX AI