NEW YORK, N.Y. and SINGAPORE, Oct. 13, 2023 (SEND2PRESS NEWSWIRE) – HIX.AI, a software company offering the leading all-in-one AI writing copilot, today launched HIX Bypass. This web-based tool allows users to rewrite their AI-generated content so that it will bypass AI detection of all major detectors, including ZeroGPT, Winston AI, and Content at Scale.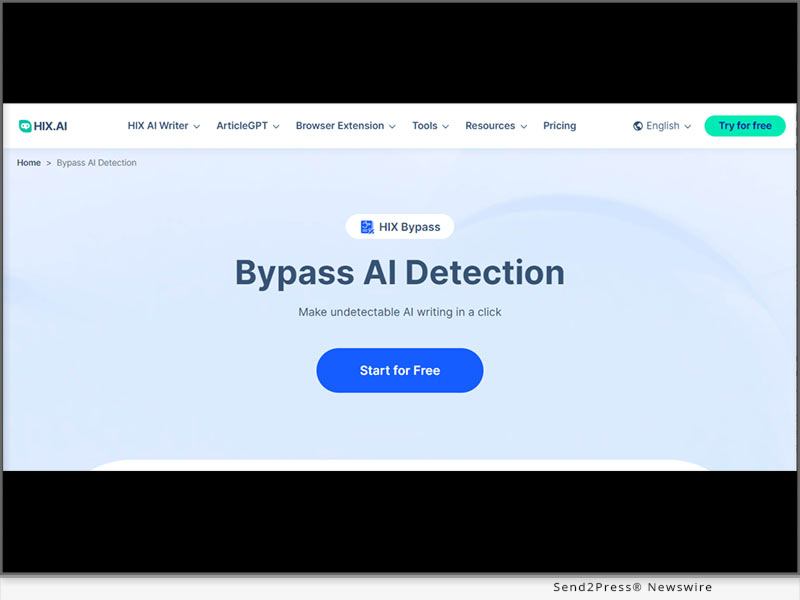 Image Caption: HIX Bypass.
"HIX Bypass is a game-changer for anyone who uses AI-generated text. It will make sure that they get undetectable AI writing effortlessly and won't have to worry about AI detection software," says Camille Sawyer, CEO of HIX.AI.
There are several AI detection removers on the market, but many of them fail to bypass AI detection because they simply spin the content. This can mean the text will still be detectable and may lose quality and original meaning. Meanwhile, HIX Bypass leverages cutting-edge humanization technology to keep the quality of content and guarantee that AI detectors will be bypassed.
HIX Bypass' user interface has been curated to allow users to bypass AI detection as easily as possible. Users simply input their AI-generated text into the tool and can start the humanization process with one click. After the process is complete, users will have completely undetectable AI writing.
Moreover, HIX Bypass helps bypass AI detection while still preserving the quality of the writing. HIX.AI ensures that the original meaning of the text is preserved, and users won't need to make edits to make sure their content delivers the messages they want. This makes sure that the user can always create undetectable AI writing that fits right in with the purpose of their content creation.
HIX Bypass is compatible with any AI-generated content. Whether the content has been written with assistance from ChatGPT, GPT-4, or Bard, AI detectors can be bypassed. This is also the case, whatever subject the content is written about.
Using anti-AI detection tools like HIX Bypass is also known to be helpful for the SEO of your website. AI texts humanized by HIX Bypass are easier to avoid the penalties from search engines. And it gives you a higher chance of maintaining the SEO rankings of your AI-generated content.
HIX Bypass has a high number of use cases and will attract a diverse usership. Primary use cases include content creation for blogs, websites, and social media, essay or report writing, marketing copy creation, and creative writing such as poems, stories, and scripts.
As seen from the features described above, HIX Bypass is far from just another AI bypasser in an already crowded market. It is unique and is set to redefine the AI detection bypassing game by harnessing the power of its undetectable AI writing technology to simultaneously bypass AI detection and improve the overall quality of written content.
To learn more about the features of HIX Bypass and try it out, visit: https://hix.ai/bypass-ai-detection/
MULTIMEDIA
Image link for media: https://www.Send2Press.com/300dpi/23-1013-s2p-HIX-Bypass-300dpi.jpg
News Source: HIX AI