NEW YORK, N.Y. and SINGAPORE, Aug. 15, 2023 (SEND2PRESS NEWSWIRE) — HIX.AI, the most powerful, all-in-one AI writing copilot, has just unveiled its groundbreaking product, the HIX Editor, an ultimate AI text editor that aims to challenge and outperform Notion AI. "Our vision is to stand toe-to-toe with Notion AI, delivering an even more powerful, accessible, and comprehensive alternative to users," says Camille Sawyer, CEO of HIX.AI.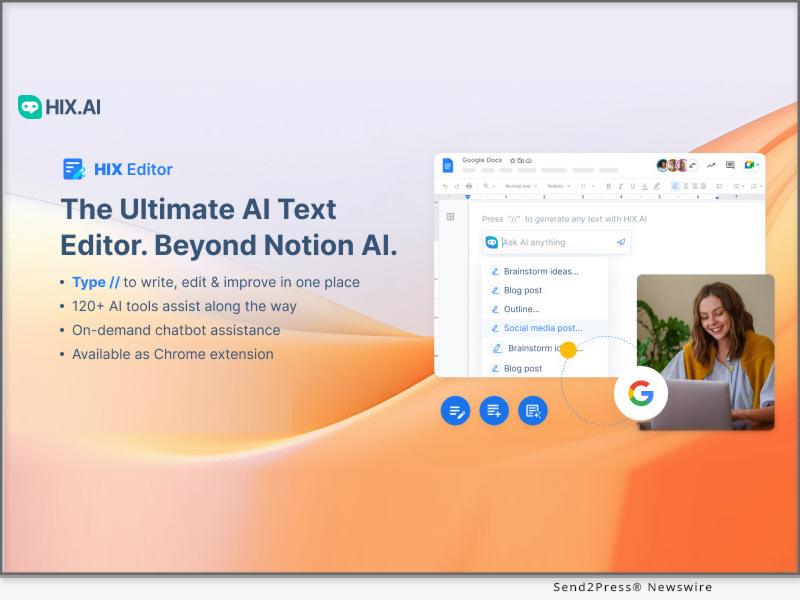 Image Caption: HIX Editor.
HIX Editor is a one-stop AI platform that empowers users to write, rewrite, refine, edit, and export content. To cater to diverse individual and business content needs, it offers 3 unique writing modes: AI Mode, Chat Mode, and Power Mode.
Under the AI Mode, users can type // to access a quick lookup bar with tens of AI writing tools, from Continue Writing to Brainstorm Ideas, all designed to make users' content creation journey easier. Even better, users have the flexibility to command the tool to carry out any task as per their preferences. This writing mode gives users an empowered, focused, and cohesive writing experience.
The Chat Mode is more fitting for those who love chatbots and more interactive solutions. Within this mode, users can directly engage HIX.AI's unique chatbot, HIX Chat. Just like ChatGPT, it can be used to conduct research on different topics, enhance already written text, summarize long-form blog posts into more concise notes, and more. The standout feature of HIX Chat is its capability to connect with millions of real-time databases, delivering up-to-date and relevant responses to any question asked. All of these features make it the best collaborative partner for content creation.
Perfect for those seeking more customizable writing assistance, Power Mode opens the gateway to over 120 writing templates. With them, users can instantly write or rewrite blog posts, social media captions, emails, marketing copies, ads, and more. The templates are packed with customizable options to help users optimize their drafts for the best output, whether it's for SEO practices or audience engagement.
"With our editor, the journey from draft to publication is seamlessly simplified and streamlined," says Camille Sawyer. Users can make sure their draft is original and error-free thanks to the editor's built-in plagiarism and grammar checker. After crafting their drafts to their hearts' content, users can even export their creations via Google Docs and WordPress with a single click.
"HIX Editor doesn't just match Notion AI; it surpasses it," Camille firmly states. Unlike Notion AI, which offers a mere 10+ tools, HIX Editor brings an expansive suite of 120+ tools to the table. Additionally, HIX Editor can smoothly integrate with Google Docs, social media platforms, and Gmail through its browser extension. Once installed and activated, it elevates the user's writing experience wherever they are. By merely typing //, users can instantly generate emails, tweets, Quora answers, and much more. Contrarily, Notion AI cannot be integrated into workflows on other platforms.
HIX Editor isn't just rising to challenge Notion AI; it's redefining the game. Clearly, with the innovative features we've glimpsed above, HIX Editor isn't merely content with surpassing its competition; it's pioneering a new standard in AI text editing.
Learn more:
https://hix.ai/ai-document-editor
https://hix.ai/ai-chat-chatgpt-alternative
https://hix.ai/chatgpt-chrome-extension
News Source: HIX.AI