RICHMOND, Va., Feb. 13, 2023 (SEND2PRESS NEWSWIRE) — Huber Engineered Woods, LLC., in Crystal Hill, Virginia has been recertified as a Virginia STAR Worksite under the Virginia Department of Labor and Industry's Virginia Occupational Safety and Health (VOSH) Voluntary Protection Programs (VPP). This is the site's 4th recertification since originally being certified on July 13, 2006.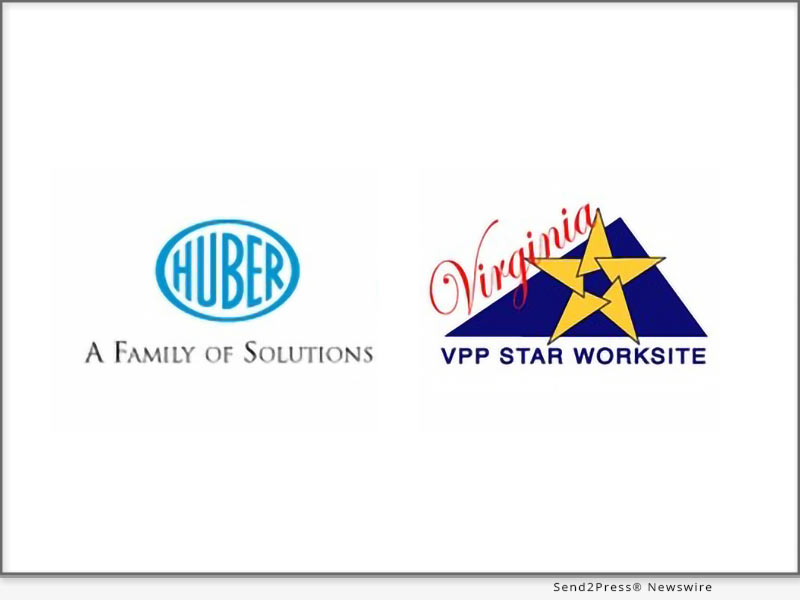 Image Caption: Huber Engineered Woods, LLC.
Huber Engineered Woods, LLC., in Crystal Hill, Virginia is one of 37 current participants in the STAR program of public/private sector worksites to achieve and retain this recognition. The site produces Oriented Strand Board (OSB) in various thicknesses and product lines. The major operations at this site include timber receiving, resin receiving and storage, debarking, flaking, flake drying, screening, resin, flake blending, mat-forming, board pressing, trimming, grading, sanding, packaging, and loading for outbound shipment. Currently, there are approximately 157 full-time employees (37 salaried/120 hourly) at this site with 3 contract workers. The facility is sited on 978 acres and began production in 1995.
The Virginia VPP recognizes and promotes exceptional safety and health management systems for Virginia's employers in all industries. In VPP, the participant's management, workers, and VOSH establish a cooperative relationship that encourages continuous improvement in worksite safety performance.
Acceptance into Virginia's VPP is confirmation and recognition that an employer has achieved safety and health excellence well above their industry peers. The VOSH VPP administers the Virginia STAR, Virginia Challenge, VADOC Challenge, Virginia BEST, and Virginia BUILT programs. For more information about this program or the other services we offer, visit our website at https://www.doli.virginia.gov/voluntary-protection-program/
The Virginia Occupational Safety and Health (VOSH) program is financed in part by a grant from the U. S. Department of Labor, Occupational Safety and Health Administration (OSHA), under §23(g) of the Occupational Safety and Health Act of 1970. The Virginia State Plan is funded by a grant of federal funds, which constitutes 50% of the State Plan budget excluding any state overmatch funds. Zero percent, or $0.00 of the State Plan budget, is financed through nongovernmental sources.
News Source: Virginia Department of Labor and Industry