RICHMOND, Va., Feb. 13, 2023 (SEND2PRESS NEWSWIRE) — United Airlines, Inc. in Dulles, VA, has been reapproved as a Virginia STAR Worksite under the Virginia Department of Labor and Industry's Virginia Occupational Safety and Health (VOSH) Voluntary Protection Programs (VPP). United Airlines Airport Operations at Dulles International Airport is one of 37 current participants in the STAR program of public/private sector worksites to achieve and retain this recognition.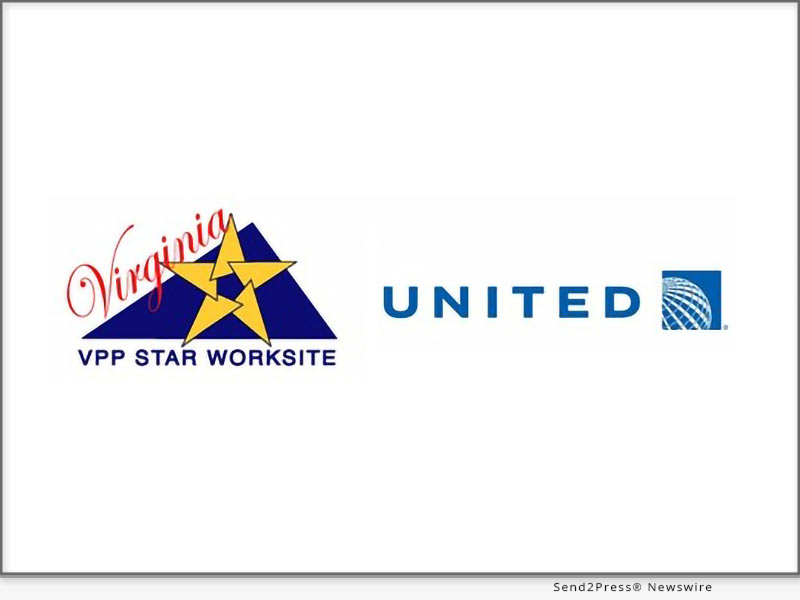 Image Caption: United Airlines, Inc. in Dulles, VA, has been reapproved as a Virginia STAR Worksite.
United Airlines Airport Operations at Dulles is an "above the wing" (ATW) customer service and "below the wing" (BTW) ramp, baggage handling, and aircraft fueling operation. Daily there are approximately 36 international flights and 180 domestic flights that originate or connect at the Dulles United hub. The fleet of aircraft range from intercontinental wide-bodied jets for international destinations to smaller commuter jet airplanes for domestic commuter service.
Currently, this site has approximately 1,713 full-time employees (121 salaried/1592 hourly) with approximately 1,063 contract workers. Employees are represented by the International Association of Machinists and Aerospace Workers Capital Air Lodge 1759.
The Virginia VPP recognizes and promotes exceptional safety and health management systems for Virginia's employers in all industries. In VPP, the participant's management, workers, and VOSH establish a cooperative relationship that encourages continuous improvement in worksite safety performance.
Acceptance into Virginia's VPP is confirmation and recognition that an employer has achieved safety and health excellence well above their industry peers. The VOSH VPP administers the Virginia STAR, Virginia Challenge, VADOC Challenge, Virginia BEST, and Virginia BUILT programs. For more information about this program or the other services we offer, visit our website at https://www.doli.virginia.gov/voluntary-protection-program/
DOLI also offers free On-Site Consultation Services to help employers better understand and voluntarily comply with VOSH standards. Priority is given to high-hazard workplaces with 250 or fewer employees and all services are offered to employers at no cost. On-Site Consultation Services helps employers identify and correct potential safety and health hazards by conducting walk-through surveys (without citations or penalties), abatement advice, on-site training, and program assistance to develop safety and health programs. Additional information about On-Site Consultation Services can be obtained by contacting the DOLI office closest to you at www.doli.virginia.gov
The Virginia Occupational Safety and Health (VOSH) program is financed in part by a grant from the U. S. Department of Labor, Occupational Safety and Health Administration (OSHA), under §23(g) of the Occupational Safety and Health Act of 1970. Zero percent, or $0.00 of the State Plan budget, is financed through nongovernmental sources.
RELATED LINKS:
https://www.doli.virginia.gov/vosh-programs/consultation/on-site-visit-request/
https://www.doli.virginia.gov/about/doli-offices-statewide/
News Source: Virginia Department of Labor and Industry