PHOENIX, Ariz., Jan. 31, 2023 (SEND2PRESS NEWSWIRE) — Millionaire Mastermind Academy announced today that IMPACT AZ 2025, a nine-month supplier diversity readiness program designed to close the racial wealth gap for black and minority business owners, is proud to announce JPMorgan Chase as its title sponsor. Since 2015, JPMorgan Chase has spent $11 billion with diverse suppliers. In 2020 alone, the diverse supplier spend was over $2 billion. JPMorgan Chase Global Supplier Diversity's mission is to develop and engage with certified and qualified diverse businesses to promote economic growth in communities.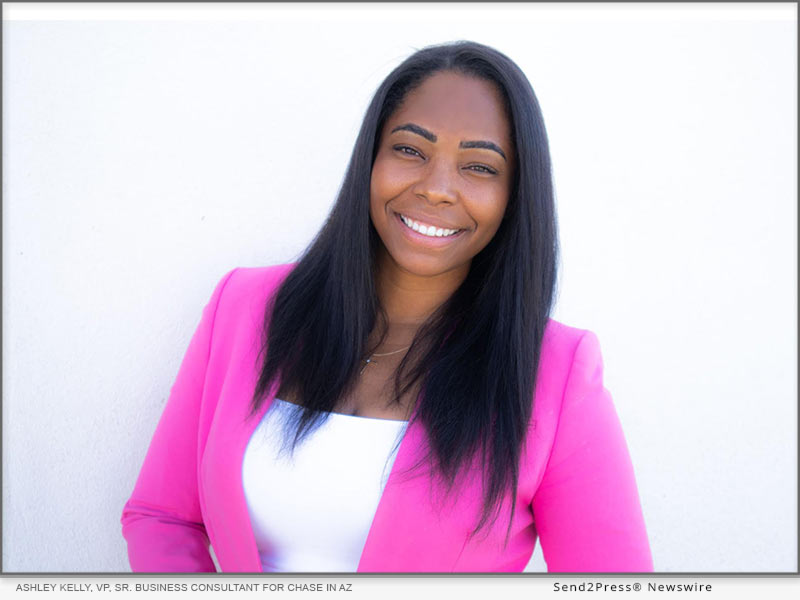 Photo Caption: Ashley Kelly, Vice President, Senior Business Consultant for Chase in Arizona.
IMPACT AZ 2025 is an action-focused program that includes a physical space to assist business owners with resources to promote stability and growth and business development for supplier diversity opportunities. It features procurement access, mentorship and networking opportunities, training in accounting and finance, access to public and private partnerships, and more. According to a recent report, supplier diversity programs could add $280 billion in income and four million new jobs to the U.S. economy.
"JPMorgan Chase is profoundly committed to supporting programs that help close the racial wealth gap and uplifting our Black business and entrepreneurial community is key to achieving that goal," said Ashley Kelly, Senior Business Consultant for Chase in Arizona. "This program will deliver expertise and support to help participants scale and grow their businesses in a sustainable manner. I'm very excited about supporting this collaboration."
IMPACT 2025, a direct response to the 2022 State of Black Business report released by the State of Black Arizona, is accepting corporate support to ensure the program is no-cost for cohort participants. The report shared that more than half of Black business owners in Arizona face a lack of access to capital driven by low levels of personal wealth, creditworthiness disparities and low loan request rates.
Corporations interested in supporting IMPACT AZ 2025 can contact info@impactaz2025.com or call 888-509-1145.
​"I was born into poverty and had to bootstrap my business and learn how to grow and succeed. A decade later, I have built a national brand and am privileged to share everything I learned to help others do the same," said Dr. Velma Trayham, founder of the Millionaire Mastermind Academy. "I credit hard work, faith, and having access to procurement opportunities for my ability to rise above poverty. I am thrilled and honored to support the Arizona business community and have supporters like JPMorgan Chase who understand the deep need for such work."
IMPACT AZ 2025 is accepting applications from small business owners interested in a solutions-driven program that will help them grow business with corporations, expand customer discovery and enhance financial management and business development. The application deadline is March 15, and the program will kick off on April 24 at the Millionaire Mastermind Academy's Scottsdale office at Arizona State University's Skysong 3.
Key business activities will support building capacity for contracts, financial planning and management, income generation, business operations, and more.
About IMPACT AZ 2025:
IMPACT AZ 2025 is a supplier diversity readiness program designed to close the racial wealth gap of business owners. Supported by the Millionaire Mastermind Academy and the Arizona Black Chamber of Commerce, IMPACT AZ 2025 is a nine-month business accelerator focused on supplier diversity training to grow business opportunities. For more information, visit https://impactaz2025.com/
About Millionaire Mastermind Academy:
The Millionaire Mastermind Academy is a 501(c)(3) nonprofit whose mission is to educate and support the growth of women-owned business enterprises, thereby strengthening the economic impact in their community. We have mentored more than 8,000 women through technical assistance & economic empowerment programs. For more information, visit https://millionairemastermindacademy.org/.
MEDIA CONTACT:
Nancy Davis
Thinkzilla Consulting Group
888-509-1145
info@thinkzillaconsulting.com
# # #
This news was created and issued on behalf of Millionaire Mastermind Academy by Thinkzilla Consulting Group ( https://thinkzillaconsulting.com/ ).
News Source: Millionaire Mastermind Academy