MACON, Ga., April 17, 2019 (SEND2PRESS NEWSWIRE) — LBA Ware™, provider of the leading automated incentive compensation and sales performance management platform for mortgage lenders, today announced that it will be an exhibiting company in Innovation Alley at FinTech South, the Southeast's largest event dedicated to financial innovation. Now in its second year, FinTech South takes place April 22 and 23, 2019 at Mercedes-Benz Stadium in Atlanta.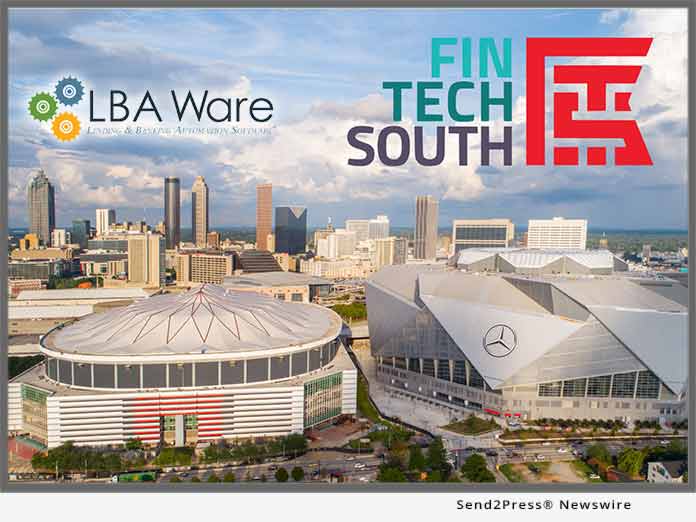 Hosted by the Technology Association of Georgia (TAG), FinTech South showcases the Southeast's most innovative companies and brings together global fintech leaders to exchange insights on industry trends. As one of 40 fintech startups invited, LBA Ware will exhibit its award-winning mortgage industry technology CompenSafe™ at the event's Innovation Alley, which spans the 50-yard line to the end zone of the stadium venue.
A Macon, Georgia-based mortgage technology start-up, LBA Ware has been an active contributor to Georgia's rich tech ecosystem and innovation community. In 2017, LBA Ware was accepted into the signature portfolio of Georgia-based tech incubator Advanced Technology Development Center (ATDC), which was recognized by Forbes magazine as one of the "12 Business Incubators Changing the World." In 2018, LBA Ware opened a satellite office at the ATDC headquarters in midtown Atlanta's Tech Square.
"As founder of a technology startup that has successfully carved out a niche in mortgage finance, I understand the value in leveraging the talent, insights and relationships immediately around you — and, conversely, the importance of paying your success forward by fostering progress in your wider community," said LBA Ware Founder and CEO Lori Brewer. "FinTech South creates a space for us to connect with innovative financial technology organizations in the region, from Fortune 500 companies to startups, to explore each other's visions of fintech."
About FinTech South: http://www.fintechsouth.com/
About LBA Ware:
Founded in 2008, LBA Ware's mission is to inspire opportunity by delivering solutions that are essential to the way mortgage companies operate. We are a trusted partner and play a key role in our clients' success by enabling them to motivate, incentivize and better leverage the human potential within their organizations. Our applications automate traditionally manual business processes for which an existing software solution does not exist, empowering lenders to create an integrated software environment that maximizes their productivity and operational efficiency.
For more information about LBA Ware and our software solutions, visit https://lbaware.com.
Twitter: @LBAWare @TAGthink @FinTechSouth #FinTechSouth #fintech
###
MEDIA ONLY CONTACT:
(not for print or online)
###
MEDIA CONTACT
Leslie W. Colley
Depth PR for LBA Ware
404-390-3830
leslie@depthpr.com
News Source: LBA Ware