DETROIT, Mich., Oct. 5, 2023 (SEND2PRESS NEWSWIRE) — Move For Hunger, a national non-profit organization that fights hunger and food waste, will attempt to break the GUINNESS WORLD RECORDS™ title for the Most Cereal Boxes Toppled in a Domino Fashion with Topple Hunger on October 12 at 5:30 p.m. ET. The Topple Hunger event aims to shatter the current record of 6,391 cereal boxes by more than double – toppling 15,000 boxes at the Henry Ford Detroit Pistons Performance Center.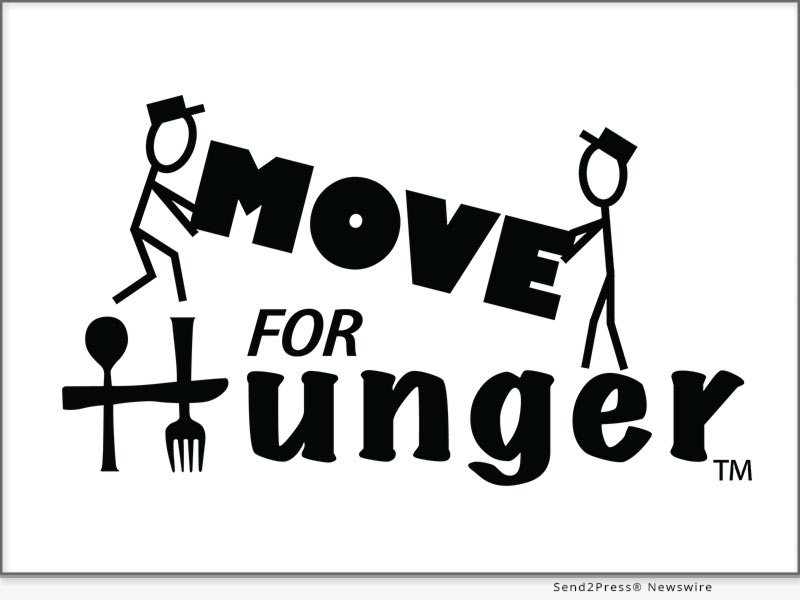 Image Caption: Move For Hunger.
The endeavor is not just about breaking a record. It also seeks to raise awareness about significant food insecurity and food waste in the US where 34 million Americans don't know where their next meal is coming from.
To help make this challenge possible, WK Kellogg Co. & Kroger are donating the boxes of cereal, and the United Dairy Industry of Michigan will be generously donating a gallon of milk for every cereal box donated.
Hellmann's, Lineage Foundation for Good, University Moving & Storage, and the Detroit Pistons have also joined as sponsors and are committed to a world without hunger or food waste. Move For Hunger is asking the public to join in and make a $5 donation to sponsor a cereal box and help break the record. All donations will be matched up to $75,000 by the event's generous sponsors. Visit http://topplehunger.com to sponsor a box and make a donation.
"We are excited to partner with these amazing sponsors to attempt to break a GUINNESS WORLD RECORDS," said Adam Lowy, Executive Director and Founder at Move For Hunger. "This challenge is a great way to raise awareness about hunger and food waste, and to help us provide much-needed food assistance to those in need."
"At WK Kellogg Co, we are committed to helping families, kids and communities be healthier and happier, together and we are passionate about doing our part to make nutritious foods easily accessible, while creating social connectivity and respecting natural resources," said Sarah Ludmer, WK Kellogg Co's Chief Wellbeing and Sustainable Business Officer. "We are thrilled to be a part of such a monumental event that supports our long-held beliefs and our continued vision for the future."
This event will support Move For Hunger by providing 500,000 meals to communities in need. A national non-profit organization, Move For Hunger mobilizes transportation networks to deliver surplus food to local food banks and pantries across the United States and Canada. After the event ends, the food will be delivered to local Michigan food banks.
"We look forward to hosting this unique challenge at the Henry Ford Detroit Pistons Performance Center designed to fight issues around hunger and support local Michigan food banks," Erika Swilley, Vice President of Community & Social Responsibility for the Detroit Pistons said. "Though we're excited about the opportunity to break the Guinness World Records, more importantly, we hope this challenge serves to break barriers around food insecurity in our community."
"We're immensely grateful to be part of this incredible event dedicated to combating food insecurity," said Cam Barrett, Corporate Affairs Manager for the Kroger Co. of Michigan. "As we join forces to break the GUINNESS WORLD RECORDS title for cereal box dominoes, we're reminded that it's not just about the boxes, but the collective strength and determination to topple hunger in our communities. With all 15,000 boxes set for donation to local food banks, we're making a resounding statement – that together, we can help create communities where no one goes to bed hungry."
Follow Move For Hunger on social media (@moveforhunger) for more event and live stream information. To learn more about the challenge visit http://topplehunger.org/. Make a donation today to help families in need.
About Move For Hunger:
Move For Hunger is a national hunger relief non-profit organization that fights hunger and food waste by mobilizing transportation networks to deliver surplus food to communities in need. Since its founding in 2009, Move For Hunger has collected nearly 38 million pounds of food which has helped provide more than 31 million meals.
About WK Kellogg Co.
At WK Kellogg Co, we bring our best to everyone, every day through our trusted foods and brands. Our journey began in 1894, when our founder W.K. Kellogg reimagined the future of food with the creation of Corn Flakes, changing breakfast forever. Since then, we have embraced the same spirit of innovation and entrepreneurship in everything we do, channeling our founder's passion and commitment to creating high quality and delicious products while fostering communities. Our iconic brand portfolio includes Frosted Flakes, Rice Krispies, Froot Loops, Kashi, Special K, Raisin Bran, and Bear Naked. With a presence in the majority of households across North America, our brands play a key role in enhancing the lives of millions of consumers every day, promoting a strong sense of physical, emotional, and societal wellbeing. Our beloved brand characters, including Tony the Tiger and Toucan Sam, represent our deep connections with the consumers and communities we serve. For more information, visit https://www.wkkellogg.com/.
About The Kroger Co. of Michigan:
At The Kroger Co. of Michigan, a company of The Kroger Co. (NYSE: KR), we are Fresh for Everyone™ and dedicated to our Purpose: To Feed the Human Spirit®. We are 16,000 associates who serve customers daily through a seamless shopping experience throughout Michigan. We are committed to creating #ZeroHungerZeroWaste communities by 2025. To learn more about us, visit our newsroom and investor relations site.
About the Detroit Pistons:
Since their arrival in 1957, the Detroit Pistons have become one of the most storied franchises in the NBA. With over 2,600 regular-season and playoff victories, the club has celebrated three NBA Championships (1989, 1990, 2004), five NBA Finals appearances (1988, 1989, 1990, 2004, 2005) and 11 Eastern Conference Finals appearances. In October 2019, the club opened the new Henry Ford Detroit Pistons Performance Center located in the New Center area, a campus that serves as the organization's practice facility and corporate headquarters. Since its purchase by Michigan native Tom Gores in 2011, the organization has focused on operating as a community asset while promoting a culture of innovation and industry-leading thought.
About Hellmann's:
Hellmann's is committed to helping people enjoy great tasting good for the simple pleasure it is, without worry or waste. For over a century, the brand has helped people turn even the simplest ingredients into delicious meals. Hellmann's believes in the power of taste, because when food tastes good, less of it gets wasted. This belief has driven Hellmann's to be a force for positive behavior change around household food waste. Hellmann's partnered with experts to conduct one of the longest and largest consumer behavior studies on household food waste working with 2,000 families in the US and Canada gathering insights to help consumers better use the food they already have at home and to waste less. Hellmann's will continue to champion household food waste reduction through its "Make Taste Not Waste" campaigns, inspiring people to turn their left-behinds into easy, tasty meals. In the past year alone, Hellmann's has been able to inspire more than 200 million people across the US, Canada, and the UK.
About the United Dairy Industry of Michigan:
The United Dairy Industry of Michigan (UDIM) is dedicated to serving Michigan's hard-working dairy farm families and promoting Michigan's locally produced dairy products. UDIM is the umbrella organization for the American Dairy Association and Dairy Council of Michigan. These non-profit organizations provide dairy product promotion and nutrition education services on behalf of their funding members.
About Lineage Foundation for Good:
The Lineage Foundation for Good (the "Foundation") is the independent philanthropic arm of Lineage Logistics ("Lineage"). The Foundation leverages the unique access, influence, experience, and expertise of Lineage, one of the world's largest temperature-controlled logistics solutions providers, and its customers and partners to reduce food waste and fight food insecurity – a need that was accelerated by the practical challenges of getting quality food to those in need during the COVID-19 pandemic. Central to the Foundation's mission is to develop a dynamic, real-time, and global link between those who commercially produce our food and the individuals, families and communities who need it most. The Foundation creates a system in which food products, including those that might have otherwise gone to waste, can be quickly and easily steered to food pantries and other non-profits combating food insecurity around the world. The Foundation supports various philanthropic initiatives that have an impact in the communities in which we live and work, and is proud to partner with Feeding America, the Global FoodBanking Network, and other organizations to expand its reach, maximize its impact, and help feed the world.
About University Moving & Storage:
University Moving and Storage, founded in 1969, is a premier moving and storage company specializing in residential, commercial, and international relocations. With a strong commitment to customer service and a deep understanding of the complexities of moving, University Moving and Storage provides tailored solutions to meet the unique needs of each client. University is a globally recognized diversity supplier that holds a certification from the Women's Business Enterprise National Council (WBENC). Headquartered in Farmington Hills, MI with comprehensive service centers in Grand Rapids, MI; Cincinnati, OH and Indianapolis, IN, the company, and its people have been recognized for its excellence in service, commitment to maintaining World-Class service levels and utmost attention to social awareness in the communities they live, serve, and operate. University is a distinguished asset to the moving industry, the NorthAmerican Van Lines network, and always delivers on its promise to corporate responsibility and community support, such as Move For Hunger. Visit https://www.universitymoving.com/ for more information.
MULTIMEDIA:
LOGO link for media: https://www.Send2Press.com/300dpi/23-1005-s2p-moveforhunger-300dpi.jpg
RELATED LINKS:
https://www.guinnessworldrecords.com/
News Source: Move For Hunger