NEW YORK, N.Y., March 23, 2023 (SEND2PRESS NEWSWIRE) — PassFab, a prominent software development firm, is pleased to announce the launch of its Happy Easter sales campaign. This campaign provides consumers with the opportunity to take advantage of three fantastic prices on PassFab software and online resources.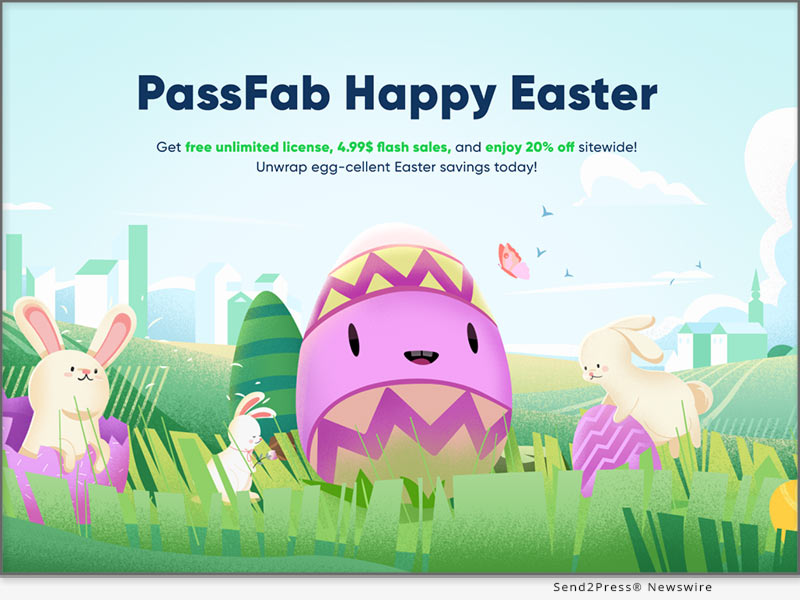 Image Caption: PassFab Happy Easter 2023.
The promotion features three distinct offers, which include the PassFab Duplicate File Deleter, Unlimited Giveaway, PassFab 4EasyPartition Just in $4.99, Flash Sale, and a 20% discount on all PassFab products.
PassFab has been a reputable company in password recovery and management solutions and software. PassFab products give consumers with secure, dependable, and efficient solutions that protect the safety of their data. The Easter Sale from PassFab offers customers a fantastic chance to save money on premium software.
PassFab's spokesman stated this while presenting the company: "We have reached more than 20 million people globally in over 200 countries with our easy, quick, trustworthy, and professional software products, and we will keep developing and pushing forward to deliver the greatest service for everyone in the world."
Unlimited Gift of PassFab Duplicate File Deleter
PassFab is giving away its Duplicate File Deleter program for free as part of this event. Users can use this tool to easily locate and delete duplicate files, freeing up space on their devices. The gift is open to all users, so everyone can take advantage of it. You only need to submit your name and email address to obtain a license.
PassFab 4EasyPartition-Only $4.99, Flash Sale
The flash sale on the PassFab 4EasyPartition tool is another fantastic deal in this campaign. Users can use this software to easily and efficiently manage their hard drive partitions. The flash sale price is only $4.99, which is a big saving over the regular price.
Enjoy 20% OFF On PassFab Overall Products
During this deal, PassFab is also offering a 20% discount on all their products. This implies that customers can save money on any PassFab software or online tool they require. This promotion offers consumers a fantastic opportunity to save money on PassFab's high-quality items.
How to Participate:
Users can join and take advantage of these amazing deals by visiting PassFab website at: https://www.passfab.com/sales-promotion.html
About PassFab:
PassFab, which was founded in 2010, has been delivering top-of-the-line password recovery and management tools to its users all over the world for over a decade. PassFab has become a trusted name in the software market as a result of its extensive product line and dedication to client satisfaction.
Facebook: https://www.facebook.com/passfab/
Twitter: https://twitter.com/passfab
YouTube: https://www.youtube.com/passfab
Instagram: https://www.instagram.com/passfabsoftware/
News Source: PassFab