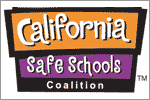 California Safe Schools Newsroom - Profile and News Archive
California Safe Schools (CSS) successfully spearheaded the most stringent schools pesticide use policy in the nation, Integrated Pest Management (IPM), at the Los Angeles Unified School District. IPM uses low risk methods to eradicate insects, weeds and other pests, eliminating a major source of indoor and outdoor pollution. It was the first in the United States to embrace the "Precautionary Principle" and "Right to Know" about pesticides used on school campuses. The success of the Los Angeles Unified policy led to California Legislation, Healthy Schools Act 2000.
Robina Suwol is the founder and Executive Director of California Safe Schools, a celebrated children's environmental health and justice coalition founded in 1998.
On October 6, 2005, Governor Schwarzenegger signed AB 405 (Montanez) sponsored by California Safe Schools. This important law closes a loophole thus protecting more than 6 million California k-12 public school students, and hundreds of thousands of teachers and school employees from exposure to experimental pesticides whose health effects are unknown.
CSS also has worked extensively on local and national School Siting Guidelines.
Engage with California Safe Schools
Learn more online at: http://www.calisafe.org/
Press Releases from California Safe Schools :
LOS ANGELES, Calif., April 20, 2017 (SEND2PRESS NEWSWIRE) — In honor of Earth Day 2017, California Safe Schools celebrates all of the heroes who strive every day to protect our environment. This year, CSS is honoring the following 2017 Earth Day Heroes with awards and commendations for their exceptional efforts to protect human health and Mother Earth.
LOS ANGELES, Calif., Nov. 18, 2014 (SEND2PRESS NEWSWIRE) — California Safe Schools (CSS) is pleased to announce it is one of 10 recipients for 2014 of Neotrope's annual J.L. Simmons Non-Profit PR Grant award. With this commitment, Neotrope(R) will provide public relations (PR) and cause-marketing support to California Safe Schools over the next year to raise awareness around its programs and accomplishments.