Dining Out Media LLC Newsroom - Profile and News Archive
We've been working hard to help restaurants and diners for over 10 years. We at Dining Out Jersey (Dining Out Media LLC) have been working hard to provide restaurants and gourmet shops with effective, targeted promotions and advertising solutions. At the same time, we seek to give our loyal audience with the latest information to make dining out more than just filling the belly. It a chance to try new flavors and experiences. Let's dine out and start enjoying life!
Engage with Dining Out Media LLC
Learn more online at: https://www.diningoutjersey.com/
Follow: Twitter | Facebook | Instagram | YouTube
Press Releases from Dining Out Media LLC :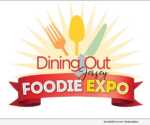 PARAMUS, N.J., July 1, 2021 (SEND2PRESS NEWSWIRE) — Dining Out Media LLC will be hosting the 1st Annual Dining Out Jersey Foodie Expo on Thursday July 15, 2021 from 6 p.m. – 10 p.m. at The Terrace at Biagio's in Paramus, N.J. The event will feature North Jersey's best restaurants, gourmet food shops, BBQ, craft beer, wine, and spirits, as well as celebrity guests, music, and other food-related vendors.