Singing Dog Vanilla Newsroom - Profile and News Archive
Founded on April Fool's Day in 2004, Singing Dog Vanilla has offices in Eugene, Oregon and Phoenixville, Pennsylvania. They partner with over 400 vanilla-growing families in Indonesia to bring organic vanilla products to food manufacturers, bakeries, scoop shops, restaurants, and breweries.
Singing Dog Vanilla also has a full line of retail products sold in natural grocery stores across the USA and internationally. Profits are shared with their vanilla farmers and employees. Employees also enjoy a paid day off on their birthday.
Engage with Singing Dog Vanilla
Learn more online at: https://www.singingdogvanilla.com/
Follow: Twitter | Facebook | Instagram | YouTube
Press Releases from Singing Dog Vanilla :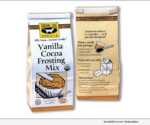 EUGENE, Ore., June 22, 2020 (SEND2PRESS NEWSWIRE) — Singing Dog Vanilla is introducing an Organic Vanilla Cocoa Frosting Mix with compostable packaging after movement of their Organic Vanilla Frosting Mix surged by 209% this year. Sales growth is most likely encouraged by an increase in home baking while people shelter in place.