SAN DIEGO, Calif., Nov. 13, 2017 (SEND2PRESS NEWSWIRE) — ReverseVision, the leading provider of technology and training for the Home Equity Conversion Mortgage (HECM) industry, today announced that STRATMOR Group Senior Partner Jim Cameron will be the Day 1 Special Session guest speaker for its third annual user conference. The ReverseVision UserCon 2018 will be held February 6–8, 2018, at the Kona Kai Resort and Spa on San Diego's Shelter Island.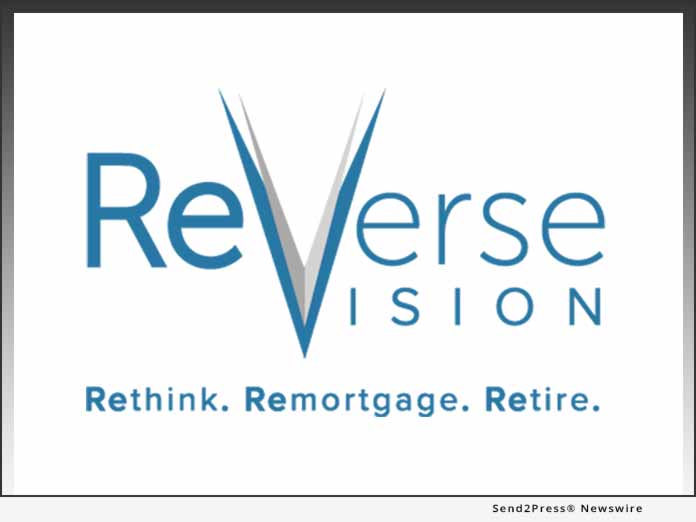 A STRATMOR Group senior partner since 1999, Cameron has been engaged in the mortgage industry for over three decades. Serving more than 250 companies, STRATMOR Group is a mortgage industry advisory firm delivering data-driven consultative services for lender CEOs and senior executives on growth and profitability improvements, risk reduction or positioning for acquisition or sale.
Cameron's presentation at UserCon 2018 will explore the HECM as an element of a Generational Lending™ strategy, including actionable data and insights to guide mortgage lenders in the formulation of business strategies and operational best practices for a successful HECM lending unit.
"Lenders that want to commence or improve their performance in HECM lending will gain valuable insights from data related to the product's regulatory repositioning, volume and demand, productivity, profitability and marketing," said Jim Cameron. "Data-driven mortgage lending consulting is what we do at STRATMOR Group, so I am eager to interact with ReverseVision customers and other businesses that are interested in learning more about the opportunities presented by reverse mortgage lending."
UserCon 2018 will deliver three days of educational programming, evidence-based sales training, software demonstrations, networking and vendor exhibits designed for users of ReverseVision technology who are new to the Home Equity Conversion Mortgage (HECM) industry, as well as practiced HECM loan originators and operations personnel:
The conference will commence on Tuesday, February 6, with the premiere of ReverseVision's Generational Lending™ session, an interative introduction to HECM lending designed for industry newcomers. A cocktail welcome reception for all attendees will follow at 6 p.m.
Wednesday's programming will include expert-led sessions for loan originators, in-depth learning opportunities with ReverseVision's technology and wholesale partners and special session address by STRATMOR Group's Jim Cameron. The evening will close with an island-themed networking party featuring food, drinks and entertainment.
Thursday's sessions will equip HECM lenders with the tactics they need to succeed — and even gain competitive edge — in the midst of widescale industry changes.
"We are honored to have Jim Cameron as a special session speaker since UserCon 2018 is primarily about delivering unique, worthwhile and practical guidance for lenders that want to create highly-efficient and productive HECM operations by leveraging a Generational Lending business strategy coupled with ReverseVision product solutions," said ReverseVision Vice President of Sales and Marketing Wendy Peel. "STRATMOR Group has a reputation for getting to the heart of the matter with relevant data and innovative insights, which will benefit UserCon 2018 attendees in optimizing their investment in ReverseVision technology."
ReverseVision's flagship loan origination system (LOS), RV Exchange (RVX), is used by each of the top-ten HECM lenders. In addition to RVX, the company offers customized client services through RV Pro Services (RVPS); proprietary data insights and web-based sales and marketing tools through RV Sales Accelerator (RVSA); and live and online training courses through RV University (RVU).
Early-bird registration at https://www.reversevision.com/usercon2018 is available through November 15. For corporate sponsorship or speaking opportunities, contact connect@reversevision.com.
About ReverseVision:
ReverseVision, Inc. is the leading provider of technology and training for Home Equity Conversion Mortgage (HECM) origination. With nearly 10,000 active users, ReverseVision technology is used by 10 of the top-ten reverse mortgage lenders and supports more HECM transactions than all other systems combined. The company's comprehensive product suite also includes HECM sales and education tools and a dedicated professional services team. ReverseVision partners with some of the finest and fastest-growing banks, credit unions and lending organizations in the United States to provide its HECM technology to brokers, correspondents, lenders and investors.
A 2017 HousingWire TECH100™ company, ReverseVision has also been recognized in Deloitte's Technology Fast 500™ listing. ReverseVision's annual user conference, the only event of its kind in the industry, brings together more than 200 lenders, vendors and educators each year to advance HECM lending. The company continues to build on its technology's pioneering capabilities with frequent enhancements aimed at boosting users' HECM volume, workflow efficiency and data analysis capabilities.
For more information, visit https://www.reversevision.com/
News Source: ReverseVision Inc.