RALEIGH, N.C., Jan. 24, 2019 (SEND2PRESS NEWSWIRE) — Automobile advertising agency, Sokal Media Group, is proud to be the new agency of record for the Ben Mynatt Family of Dealerships.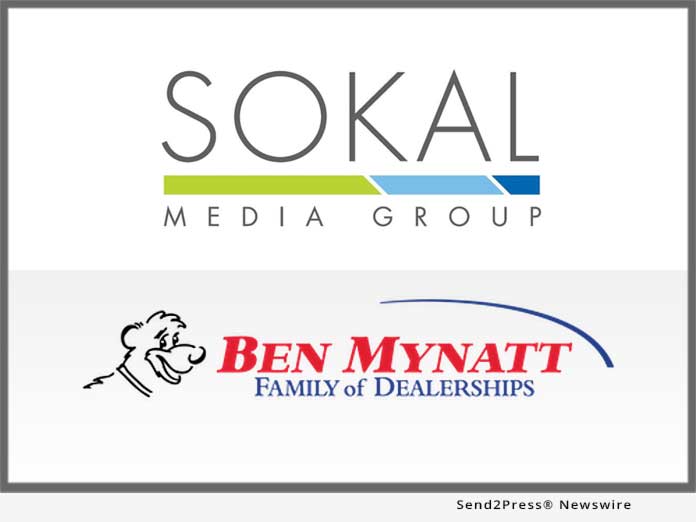 Ben Mynatt Family of Dealerships has reputation for honesty, fairness, and service. The group includes Ben Mynatt Nissan in Salisbury, Ben Myatt Preowned in Kannapolis, Ben Mynatt Buick/GMC and Ben Mynatt Chevrolet/Cadillac, both located in Concord.
Executive Manager, Todd Rakes, expressed his anticipation of the new partnership. "I'm looking forward to this new chapter in our dealership group. With the professionalism of our staff and the creativity of Sokal Media Group, this looks to be a winning combination. We're ready to get rolling!" commented Rakes.
Sokal Media Group took the reins January and has already launched new websites for the group. They will also create new advertising campaigns each month and will assist in many other areas of dealership business.
"I see great potential in the Mynatt group, and our team is ready to help them make a leap into greater visibility in this competitive market," said Mark Sokal, CEO of Sokal Media Group. "I believe 2019 will bring them new excitement as our agency partners with them."
About Sokal Media Group:
With headquarters in Raleigh, N.C. and offices stretching from up and down the east coast to Texas, Sokal Media Group is the area's largest advertising agency focusing on automotive advertising. Sokal Media Group is dedicated to growing business for their clientele through multiple marketing and advertising services. As a full-service agency, they manage the entire project from start to finish.
The company executes everything from media buying, radio and television production, ad design, direct mail, search engine marketing, website design, website maintenance, and much more.
Sokal Media Group employees over 102 staff members from Account Executives and Account Coordinators, to Media Buyers, Digital Strategists, Website Developers, and Graphic Designers. Currently, Sokal Media Group manages 534 clients across the country.
For more information on Sokal Media group, please visit their website at: https://www.sokalmediagroup.com/
About Ben Mynatt Family of Dealerships:
The Mynatt Family of Dealerships is known for customer loyalty, excellent service, and quality vehicles. They continue to be a presence in Cabarrus County, giving back to the community in a wide variety of ways.
For more information on Ben Mynatt Family of Dealerships, please visit their website at: https://www.benmynatt.com/
News Source: SOKAL