LAS VEGAS, Nev., March 9, 2023 (SEND2PRESS NEWSWIRE) — The American Gem Society (AGS), a nonprofit association dedicated to consumer protection, is proud to celebrate and recognize its women designers, as well as women leaders in the jewelry industry during Women's History Month 2023.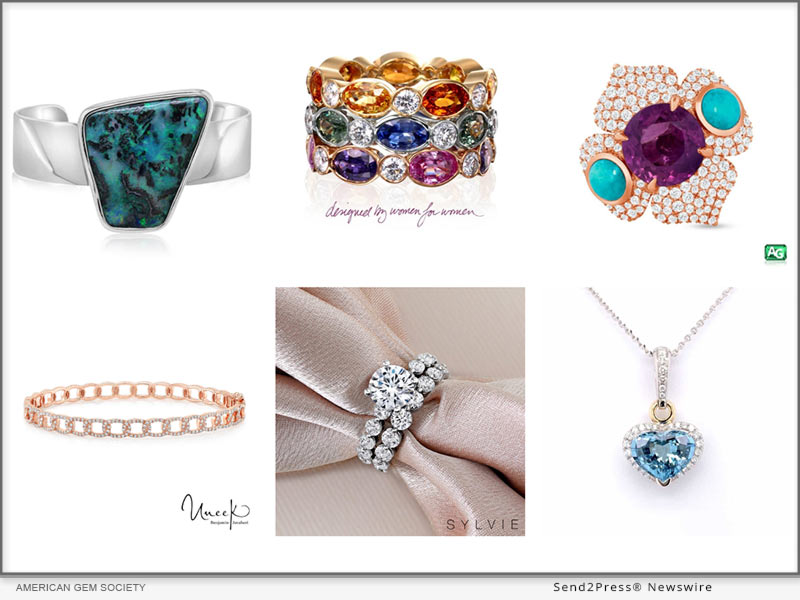 Image Caption: "Trending Now." AGS features beautiful jewelry created by women within the association's community.
Throughout March, AGS will feature beautiful jewelry created by women within the association's community. From double-drop earrings to diamond hoops, floral pendants, and bold bracelets, the women designers of AGS will take center stage. AGS will also highlight women-owned jewelry stores like Exclusively Diamonds in Mankato, MN, and Huntington Jewelers in Las Vegas, NV.
"The American Gem Society takes immense pride in its community of talented women who have contributed significantly to the association's growth and success. Whether they are leaders or creative talents in the design industry—or both—they have been instrumental in shaping our association," said Katherine Bodoh, CEO of the American Gem Society. "As we celebrate Women's History Month, we are thrilled to showcase the exceptional designs created by our women members. We hope to inspire our audience with the beauty and artistry of their creations and highlight the remarkable contributions of women to our industry."
Lisa Bridge, President of the American Gem Society's International Board of Directors, acknowledges the significant impact the female leaders at AGS had on her career. "Witnessing the achievements of the strong and talented women leading AGS when I was younger left a lasting impression on me. We are fortunate to have a supportive and collaborative community at AGS that champions and uplifts each other, men and women alike, leading to collective success and growth for the industry. I am grateful for their inspiring example and the path they have paved for all of us to excel."
AGS encourages everyone to celebrate Women's History Month by recognizing the achievements and contributions of the remarkable women in their lives through the timeless beauty of jewelry. Whether it is a gift intended to honor a special someone or a self-purchase as a testament to personal accomplishments, jewelry can serve as a significant and meaningful symbol of recognition and respect.
To see jewelry from the American Gem Society's participating women designers, follow the American Gem Society on Instagram. AGS also has a section on its Trending Now page to honor its women designers.
AGS is also proud to participate in the Women's Jewelry Association's March is Me month, celebrating women in the jewelry industry.
To find an American Gem Society jeweler in your area, visit https://www.americangemsociety.org/find-a-jeweler.
About the American Gem Society:
The American Gem Society, founded in 1934, is a nonprofit trade association dedicated to ethics, knowledge, and consumer protection within the jewelry industry. The American Gem Society awards credentials for its members, who are held to the industry's highest standards and must pass annual recertification examinations to maintain their titles. Members of the AGS membership are passionate about jewelry and dedicated to creating a positive buying experience for their customers. To find an AGS jeweler near you, visit ags.org/find-a-jeweler.
Website: https://www.americangemsociety.org/
Facebook: https://www.facebook.com/AmericanGemSociety1934
Instagram: @americangemsociety – https://www.instagram.com/americangemsociety/
Twitter: @AmerGemSociety – https://twitter.com/AmerGemSociety
MULTIMEDIA:
PHOTO link for media: https://www.americangemsociety.org/trending-now/
News Source: American Gem Society