RICHMOND, Va., Oct. 28, 2022 (SEND2PRESS NEWSWIRE) — Cintas Corporation Location #391 (Portsmouth, Va.) is one of 37 current participants in the STAR program of public/private sector worksites to achieve and retain this recognition in Virginia. This facility provides uniform programs and provides facility services such as; entrance mats, restroom cleaning, and restroom supplies for businesses in the greater Hampton Roads area. 141 employees work at a 100,000-square-foot facility that began production under the Cintas name in 2002.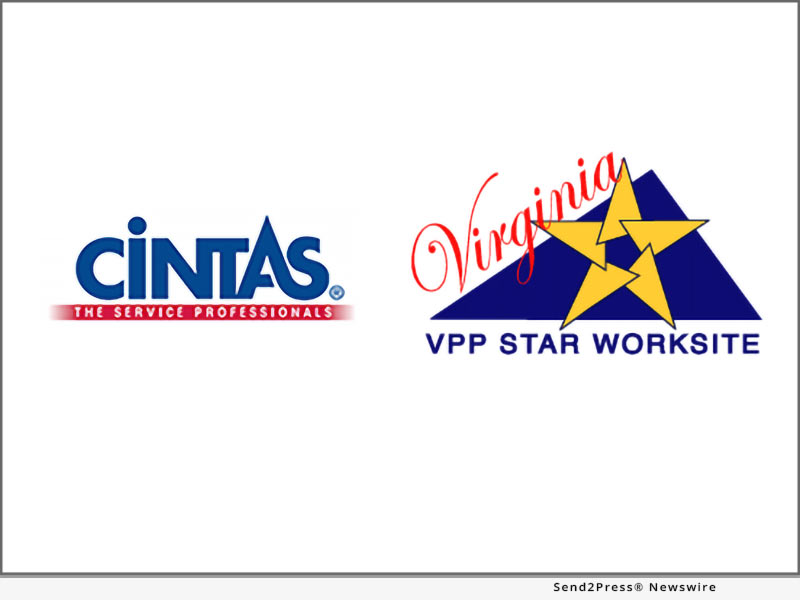 Image Caption: Cintas Location #391 reapproved as a Virginia STAR Worksite.
The Virginia VPP recognizes and promotes exceptional safety and health management systems for Virginia's employers in all industries. In VPP, the participant's management, workers, and VOSH establish a cooperative relationship that encourages continuous improvement in worksite safety performance.
Acceptance into Virginia's VPP is confirmation and recognition that an employer has achieved safety and health excellence well above their industry peers. The VOSH VPP administers the Virginia STAR, Virginia Challenge, VADOC Challenge, Virginia BEST, and Virginia BUILT programs.
For more information about this program or the other services we offer, visit our website at https://www.doli.virginia.gov/voluntary-protection-program/
The Virginia Occupational Safety and Health (VOSH) program is financed in part by a grant from the U. S. Department of Labor, Occupational Safety and Health Administration (OSHA), under §23(g) of the Occupational Safety and Health Act of 1970. The FFY21 Virginia State Plan is funded by a grant of $4,332,400 federal funds, which constitutes 50% of the State Plan budget excluding any state overmatch funds. Zero percent, or $0.00 of the State Plan budget, is financed through nongovernmental sources.
The Virginia On-Site Consultation Cooperative Agreement program is financed in part by a grant from the U. S. Department of Labor, Occupational Safety and Health Administration (OSHA), under §21(d) of the Occupational Safety and Health Act of 1970. The FFY21 Virginia Consultation program is funded by a grant of $1,189,200 federal funds, which constitutes 90% of the Virginia Consultation program budget excluding any state overmatch funds. Zero percent, or $0.00 of the Virginia Consultation budget, is financed through nongovernmental sources. Learn more: https://www.doli.virginia.gov/
MEDIA CONTACT
Jennifer Rose
Director of Cooperative Programs
jennifer.rose @ doli.virginia.gov
News Source: Virginia Department of Labor and Industry