PASADENA, Calif., Sept. 28, 2023 (SEND2PRESS NEWSWIRE) — INSIDE Public Accounting (IPA) has named KROST CPAs & Consultants Top 100 Firm in 2023. The firm ranked 73rd on the prestigious Top 100 list. KROST along with other recipients of these distinguished awards are highlighted in IPA's monthly newsletter. KROST has been named Top 100 firm for the third year in a row.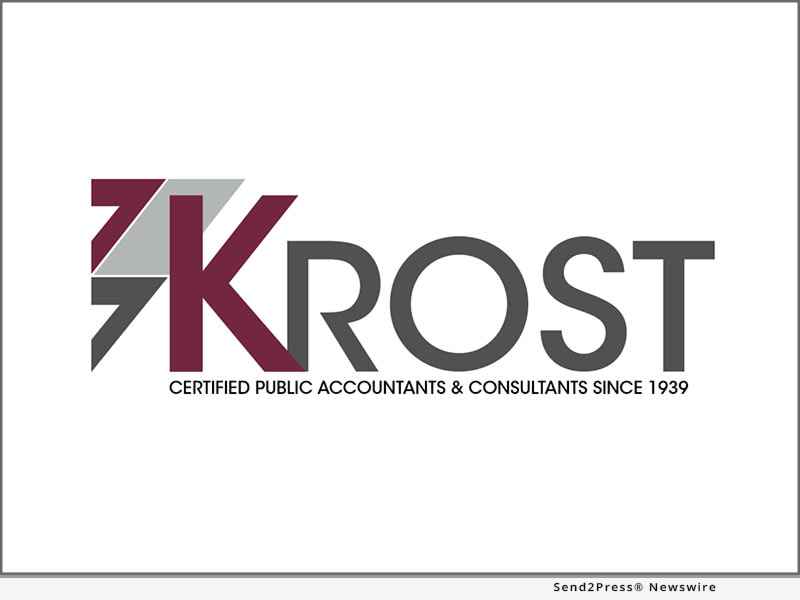 Image Caption: KROST CPAs.
"We couldn't be prouder to be recognized by our industry once again. It's a true testament to the hard work and dedication of our incredible team who made this recognition possible. Receiving this award reinforces our commitment to providing quality services to our valued clients," said Jason Melillo, CEO
INSIDE Public Accounting (IPA) is a leader in practice management resources for the public accounting profession that include: the monthly practice management newsletter, the annual national practice management benchmarking reports and corresponding reports and training. IPA has assisted firms across North America grow and thrive since 1987. The one-of-a-kind IPA 500, recognizing the top U.S.-based accounting firms, is the most comprehensive list of North American public accounting firms available.
IPA annually ranks the largest public accounting firms in the U.S. based on participating firm's net revenues — from the multi-billion-dollar U.S.-based Big 4 to the $3.8 million firm. Ranking data is captured through IPA's annual practice management survey and analysis of firms. IPA is the survey leader in data collection for the profession, with more of the largest 600 firms participating than any other survey today and a 92% return rate of participating firms.
Learn more about our services »
View INSIDE Public Accounting's 2023 Top 100 Rankings »
For more information about KROST's awards and recognition, visit KROSTCPAs.com/awards
ABOUT KROST CPAS & CONSULTANTS:
KROST is a full-service Certified Public Accounting and Consulting firm headquartered in Pasadena, California. As trusted advisors and industry leaders, clients depend on KROST for timely information, innovative solutions, and results-driven teamwork in the areas of accounting, assurance, business management, consulting, tax, mergers and acquisitions, and wealth management. Our professionals have expertise in a variety of industries. We proudly serve the restaurant, hospitality, manufacturing, real estate, technology, sports & entertainment, financial services, not-for-profits, and grocery industries. We also provide thought leadership on tax laws and the rapidly changing market.
Learn more: https://www.krostcpas.com/services
News Source: KROST CPAs and Consultants