SAN FRANCISCO, Calif., Oct. 27, 2023 (SEND2PRESS NEWSWIRE) — Financial Women of San Francisco (FWSF) today announced that Nandita Bakhshi, Special Advisor and Board Member at BMO Financial Group and Former CEO of Bank of the West, will be the guest moderator as FWSF honors Teresa Bryce Bazemore, President and CEO of the Federal Home Loan Bank of San Francisco, at the 2023 Financial Woman of the Year luncheon in San Francisco, CA on Tuesday, November 7, 2023.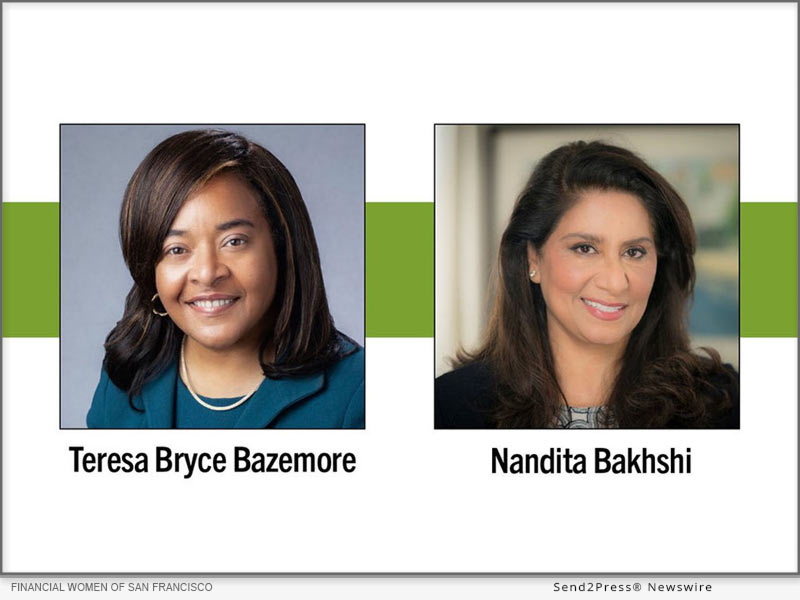 Image caption: Teresa Bryce Bazemore and Nandita Bakhshi at Financial Women of San Francisco event.
As the FWSF announced earlier this year, Teresa Bryce Bazemore is being honored as the FWSF's 2023 Financial Woman of the Year. This honor culminates with this annual event at which Ms. Bazemore and Ms. Bakhshi will engage in a fireside chat to share their professional and personal journeys and leadership perspectives.
Nandita and Teresa are uniquely connected as two of the most admired, influential, and recognized women leaders in the nation. This event presents a significant and rare opportunity to hear directly from them both on a wide range of subjects, including their unique paths to achieving transformative business results while leading inclusively, equitably, sustainably, and with purpose.
The FWSF annual event featuring Nandita and Teresa's fireside chat will take place on Tuesday, November 7th, 2023, at the Hyatt Regency Embarcadero in San Francisco, California. All proceeds benefit the FWSF's scholarship fund (a 501(c)3 nonprofit) which provides scholarships to graduate and undergraduate women studying finance and financial services. This next generation of financial leaders will also be a focus of this in-depth fireside chat, and many of the organization's current and past scholarship recipients will be in attendance.
More information about the FWSF annual event and sponsorship opportunities can be found on the FWSF website or by reaching out to info@financialwomensf.org
Learn more: https://financialwomensf.org/event-calendar#id=435&cid=1390&wid=1201
About Nandita Bakhshi:
Nandita Bakhshi rose through adversity as an immigrant and part-time bank teller to become one of few women CEOs of a major bank in the US. She has devoted her career to inclusive, transformational, and forward-looking leadership while consistently delivering operational excellence and tangible results.
As the CEO of Bank of the West, Nandita led a digital transformation that turned the company into one of the leading sustainable banks in the U.S. while improving profitability, efficiency, and customer satisfaction, culminating in a successful acquisition by BMO Financial Group. Under Nandita's leadership, Bank of the West became one of the nation's best employers for women, diversity, and LGBTQ equality.
As a senior executive at major organizations including TD Bank, Bank of America, First Data and Washington Mutual, Nandita has spearheaded innovation in digital channels and mobile payments, while also strengthening compliance and reducing operational risk in a rapidly evolving regulatory environment.
Nandita has been recognized as one of the most influential women in business in the San Francisco Bay Area and in the U.S. In 2021, the Federal Reserve Bank of San Francisco appointed Nandita to represent the 12th District on the Federal Advisory Council. She serves on the Board of Directors of BMO Financial Corp; Grameen America; the Supervisory Board of The Clearing House; and the Board of Directors of the U.S. India Strategic Partnership Forum (USISPF). She is also a member of the Pacific Bankers Management Institute Board of Directors at the Pacific Coast Banking School (PCBS). Nandita holds a Master of Arts in international relations from Jadavpur University and a Bachelor of Arts in history from the University of Calcutta.
About Teresa Bryce Bazemore:
Teresa Bryce Bazemore joined FHLBank San Francisco as president and chief executive officer in March 2021. She is a seasoned leader with more than 30 years of executive experience building and leading both mortgage insurance and services businesses. As president of Radian Guaranty from 2008 until 2017, she oversaw strategic planning, business development, and operations for the mortgage insurance business line. Prior to becoming president, she served as Radian's executive vice president, general counsel, corporate secretary, and chief risk officer.
Prior to Radian, Ms. Bazemore was senior vice president, general counsel, and corporate secretary for Nexstar Financial Corporation and general counsel for the mortgage banking line of business at Bank of America. Ms. Bazemore served on FHLBank Pittsburgh's Board of Directors from 2017 to 2019. She currently serves as audit committee chair on the Boards of T. Rowe Price Funds and First Industrial Realty Trust, Inc.
Professional appointments she has held include Federal Reserve Bank of Philadelphia Economic Advisory Council, Fannie Mae National Advisory Council, and Consumer Advisory Council of the Federal Reserve. She has also received numerous honors, including the 2017 Trailblazer Award from The National Association of Minority Mortgage Bankers of America, Smart CEO Magazine's Brava! Women Business Achievement Award, and a Distinguished Service Award from the Mortgage Bankers Association of America. In 2022, Ms. Bazemore was named one of Savoy magazine's 2022 Most Influential Black Executives in Corporate America.
She received her B.A. from the University of Virginia and J.D. from Columbia University.
To learn more about Teresa Bryce Bazemore's incredible leadership and career, please visit: https://www.fhlbsf.com/about/leadership/leadership-team
About Financial Women of San Francisco:
The Financial Women of San Francisco seeks to advance the success of women in finance and financial services and to be a source of insight and inspiration to financial women executives and managers throughout the Bay Area. In addition to the FWSF's professional organization focused on advancing women, since 1985, the FWSF Scholarship Fund (a 501(c)3 organization) has awarded more than $2.7 million in scholarship grants to more than 325 Bay Area women. Beyond financial support, FWSF scholarship recipients are mentored by FWSF members, become members of the organization, and attend career development and networking events.
For more information, please visit https://financialwomensf.org/ follow Financial Women of San Francisco on LinkedIn, Facebook and Twitter.
MULTIMEDIA:
PHOTO link for media: https://www.Send2Press.com/300dpi/23-1027-s2p-Bakhshi-and-Bazemore-300dpi.jpg
News Source: Financial Women of San Francisco