Aldersgate Newsroom - Profile and News Archive
Aldersgate is a nonprofit Life Plan Community that has been an integral part of Charlotte, NC for more than 70 years. Aldersgate is actively involved in redefining and shaping the future of senior living. Located on one of the largest green spaces in Mecklenburg County, our wooded campus is abundant in natural beauty. The community offers high quality life enrichment and a working environment for older adults and society at large, regardless of age, color, gender or sexual orientation.
Aldersgate provides an At Home service that is available to help Charlotte residents with grocery shopping, housekeeping and care, if needed. The community has earned numerous accreditations, such as CARF and SAGE Platinum. The Asbury Health & Rehabilitation Center at Aldersgate was honored by U.S. News & World Report: "Best Nursing Homes"; the local community voted Aldersgate "Best Retirement Living"; and The Charlotte Observer honored it with "Best Assisted Living." Aldersgate is committed to helping residents thrive during this challenging and unprecedented time.
Engage with Aldersgate
Learn more online at: https://aldersgateliving.org/
Follow: | Facebook | Instagram | LinkedIn
Press Releases from Aldersgate :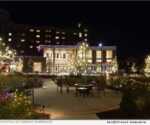 CHARLOTTE, N.C., Nov. 23, 2021 (SEND2PRESS NEWSWIRE) — Aldersgate is thrilled to host their Annual Festival of Lights driving tour on their campus on Saturday, December 4, 2021, from 4 p.m. – 8 p.m. This free event showcases thousands of twinkling lights, and visitors are encouraged to roll the windows down, wave at residents and listen to local musicians.