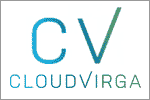 Cloudvirga Inc. Newsroom - Profile and News Archive
Cloudvirga, Inc. is the company behind the cloud-based intelligent Mortgage Platform® (iMP) designed to streamline the mortgage process.
The cloudvirga℠ platform is digitizing the mortgage industry by leveraging data and deploying an automated workflow to reduce overall cost, increase transparency and shorten the time it takes to close a loan for both borrowers and lenders. Founded by Bill Dallas, Kyle Kamrooz and Mark Attaway, seasoned financial veterans with a proven track record of building mortgage-related technologies, cloudvirga is disrupting the antiquated mortgage industry.
The story behind cloudvirga is unique. We began as an internal development initiative within one of the country's top 25 lenders. It was an experiment to see if it was possible to transform the chaos and manual processes in lending with a more robust workflow and consistent consumer experience, while truly moving the needle on driving down rising loan costs.
Being built within a major lender provided unparalleled access to typical challenges lenders face. Five thousand loans later, the intelligent Mortgage Platform® is the real deal. We made it more efficient, very compliant, and less costly to close a loan. Best of all, we made it better for the consumer.
Cloudvirga is now deploying with several lender partners that share our core belief that we cannot simply "shift" from one software platform to another—we need to fundamentally transform how loans are done.
Engage with Cloudvirga Inc.
Learn more online at: http://www.cloudvirga.com/
Follow: Twitter | Facebook | LinkedIn
Press Releases from Cloudvirga Inc. :
IRVINE, Calif., March 27, 2017 (SEND2PRESS NEWSWIRE) — Cloudvirga(SM), developer of the automated, cloud-based intelligent Mortgage Platform(R) (iMP), announced today it has raised $15 million in a series B funding round led by Incenter, a Blackstone Group portfolio company. The new funding will support cloudvirga as it scales its technology and expands its product offerings.