IRVINE, Calif., Nov. 7, 2018 (SEND2PRESS NEWSWIRE) — Cloudvirga™, a leading provider of digital mortgage software, today announced that company CEO Michael Schreck and Co-founder Kyle Kamrooz have been named to Orange County Business Journal's "OC 500" list of the most influential business leaders in Orange County, California.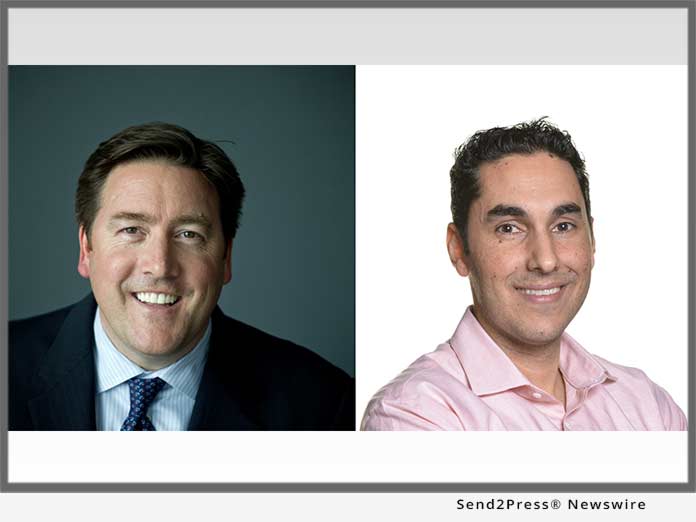 Schreck and Kamrooz were recognized for their roles at the helm of Cloudvirga, a fast-growing Irvine-based company whose software digitizes the mortgage process for lenders and borrowers. Since its founding in 2016, Cloudvirga has also been honored as one of the top 100 North American companies and one of the world's leading fintech firms.
Schreck is a veteran tech entrepreneur with a two-decade track record of success working in C-suite and founder-level roles to nurture leading tech companies. He spearheaded a Series C funding round that netted $50 million in private-equity funding for Cloudvirga earlier this year. To date, the company has raised over $77 million.
Before founding Cloudvirga, Kamrooz launched one of Orange County's most successful direct-to-consumer lenders and later served as an executive at Calabasas-based Skyline Home Loans. A member of the Forbes Finance Council and one of Entrepreneur magazine's inspiring tech entrepreneurs under 40, Kamrooz was recently named 2018 "Innovator of the Year" by the OCBJ.
"Our incredible Orange County team is the driving force behind Cloudvirga's unrelenting pursuit of a radically simple mortgage process," said Schreck. "It's gratifying to be part of a real-estate technology ecosystem with deep local roots and to contribute to the region's burgeoning reputation as an innovation hub."
Now in its third year, the OC 500 has recognized distinguished executives from Southern California's most successful publicly traded companies, private firms, nonprofits, government organizations and NGOs. Honorees are nominated and chosen by the OCBJ editorial staff. A full list of honorees can be found in the OCBJ's Directory of Influence, available to subscribers November 5 and part of the newspaper's annual Book of Lists, available for purchase in December.
About The Orange County Business Journal:
The Orange County Business Journal is the weekly read that connects the Orange County business community. This is where the community doers in the most vibrant slice of the Southern California economy keep tabs on each other. With one of the highest circulations of all the Business Journals in the country, it continues to grow as a highly impactful and influential publication. More information on the Orange County Business Journal can be found at https://www.ocbj.com, or by calling 949-833-8373.
About Cloudvirga™:
Cloudvirga's digital mortgage point-of-sale (POS) software, powered by the intelligent Mortgage Platform®, uniquely combines a world-class borrower experience with a truly automated lender workflow that radically cuts overall loan costs, increases transparency and reduces the time to close a loan. Led by top fintech veterans with a track record of building successful mortgage technologies, Cloudvirga's customer base includes nine of the top 40 non-bank mortgage originators. To date, Cloudvirga has raised over $77 million from some of the country's top lenders and private-equity firms.
For more information, visit https://www.cloudvirga.com or follow Cloudvirga on LinkedIn.
@Cloudvirga @OCBizJournal #OC500 #OrangeCounty
###
Media Contact
Leslie W. Colley
DepthPR for Cloudvirga
(404) 390-3830
leslie@depthpr.com

News Source: Cloudvirga Inc.