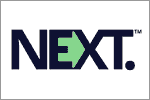 NEXT Mortgage Events LLC Newsroom - Profile and News Archive
NEXT Mortgage Events LLC is the creator of NEXT, the first bi-annual women's mortgage technology conference and expo. NEXT features informational tech-focused talks, a fast-paced tech demonstration showcase, a product-focused exposition hall and well-organized networking events - all in a comfortable environment catering to the accomplished woman executive.
NEXT's inaugural event took place January 18-19, 2018 at the InterContinental Dallas. The second event will take place in June 2018.
Engage with NEXT Mortgage Events LLC
Learn more online at: https://www.nextmortgageconference.com/
Follow: Twitter | Facebook | Instagram | LinkedIn
Press Releases from NEXT Mortgage Events LLC :