PLANO, Texas, Oct. 17, 2023 (SEND2PRESS NEWSWIRE) — Stack Sports and TrackMan Baseball are thrilled to unveil an exclusive partnership that solidifies TrackMan as the official tracking technology for Area Code Baseball. This collaboration will usher in cutting-edge technology for high school baseball players participating in the premier showcase events. Under this partnership, TrackMan's Optically Enhanced Radar Technology (OERT) will be deployed to meticulously track every pitched and batted ball during the Area Code Games and tryouts, Area Code Select, Area Code ID Series, and Area Code Development Series. This initiative promises to deliver invaluable data and insights to ACG players, coaches, as well as MLB teams and scouts.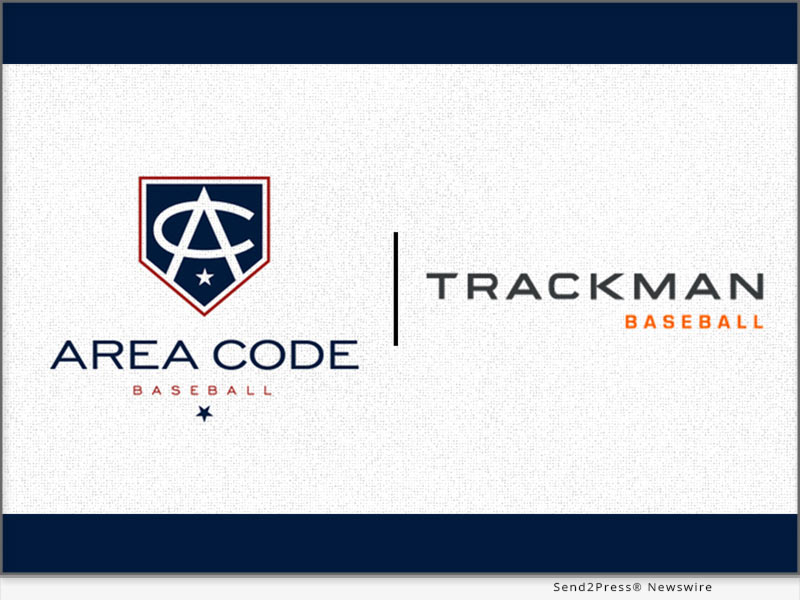 Image Caption: Area Code Baseball and Trackman Baseball.
TrackMan Baseball has been an instrumental partner of the Area Code Games since 2011, offering advanced metrics such as spin rate, launch angle, and exit velocity, among others. These data points have become indispensable for all 30 MLB teams, aiding in the evaluation of amateur players for the draft and the development of professional athletes. As the world's leading provider of baseball tracking data and technology, TrackMan Baseball has revolutionized the game and the draft process by facilitating objective and precise measurement of player performance across all levels of play.
John Olshan, General Manager of TrackMan Baseball, expressed his enthusiasm for the extended partnership: "We are thrilled to extend and expand our partnership with Stack Sports and the Area Code Games, which have been the gold standard for showcasing the best high school talent in the country for over three decades. We look forward to providing our state-of-the-art technology and data to help these young players reach their full potential and achieve their dreams of playing in the big leagues."
Furthermore, this partnership reflects a shared commitment to innovation and excellence in high school baseball, aligning Stack Sports, TrackMan Baseball, and Area Code Baseball in their dedication to fostering the growth and development of future baseball stars. Together, they aim to create an unparalleled experience for young athletes, equipping them with the tools they need to succeed at the highest levels of the sport.
Zack Greer, General Manager of Stack Sports' Student Sports division, commented on the partnership: "TrackMan Baseball is the leader in tracking technology, and we are excited to have them as our exclusive partner across the Area Code Baseball platforms. Area Code Baseball has always been about developing players both on and off the field, while providing them the opportunity to showcase their skills in front of MLB & college scouts. TrackMan Baseball continues to enhance that experience by providing objective and reliable data that helps them stand out from the crowd and improve their game."
About Stack Sports:
With nearly 50 million users in 35 countries, Stack Sports is a global technology leader in SaaS platform offerings for the sports industry. The company provides world-class software and services to support national governing bodies, youth sports associations, leagues, clubs, parents, coaches, and athletes. Some of the largest and most prominent sports organizations, including the U.S. Soccer Federation, Little League Baseball and Softball, and Pop Warner Little Scholars, rely on Stack Sports technology to run and manage their organizations.
Stack Sports is headquartered in Dallas and is leading the industry one team at a time focusing on four key pillars — Grassroots Engagement, Participation Growth, Recruiting Pathways, and Elite Player Development. To learn more about how Stack Sports is transforming the sports experience, please visit https://stacksports.com/.
About Area Code Baseball:
For over three decades, Area Code Baseball has been synonymous with excellence, offering unparalleled opportunities to the most promising high school baseball talents nationwide. The Area Code Tryouts and Games, which are free to all participants, have consistently delivered world-class experiences and remain a staple in the evaluation process for MLB scouts and college coaches alike. Each year, Area Code Baseball brings together nearly 3000 athletes from diverse backgrounds and regions of the United States, creating a dynamic and competitive environment that breeds excellence. For more information about Area Code Baseball and to stay updated on the latest news and events, please visit the official website at https://www.areacodebaseball.com/.
About TrackMan Baseball:
TrackMan Baseball is a pioneering force in transforming baseball through advanced technology and data analytics. With a decade-long legacy, TrackMan leads the way in tracking technology, offering crucial insights into player performance. Its Optically Enhanced Radar Technology (OERT) has revolutionized baseball at all levels, from high school showcases to the majors. TrackMan's metrics, including spin rate, launch angle, and exit velocity, have reshaped talent evaluation and development. By providing objective, precise measurements, TrackMan empowers players, coaches, and MLB teams with data-driven decisions, elevating the game and helping athletes maximize their potential. For more information please visit https://www.trackman.com/baseball.
News Source: Stack Sports