SARASOTA, Fla., May 24, 2018 (SEND2PRESS NEWSWIRE) — CITYCommit Inc. presents the Spring 2018 Transformational Leadership Sarasota Conference in Sarasota, Florida on June 21 and 22, 2018. Ford Taylor, the founder of Transformation Leadership as well as a Leadership Solutions trainer, Strategist and Speaker will be sharing and teaching both days.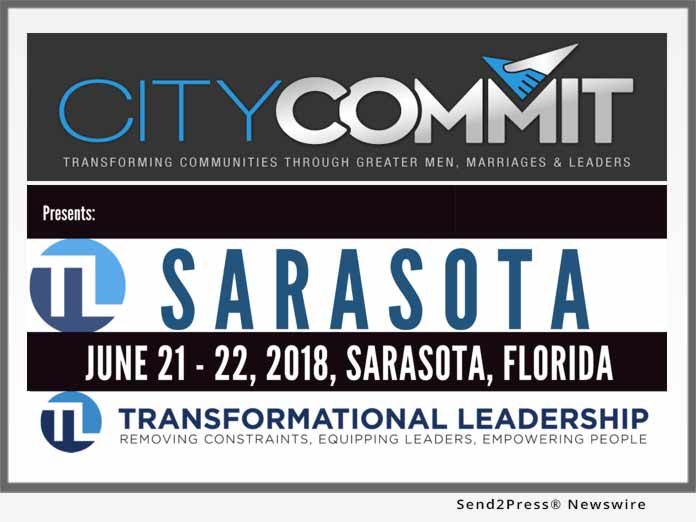 During this informative and actionable 2 day leadership conference, Ford will share the tools, techniques, and behaviors needed to become a "relactional" leader who can bridge the gap between highly relational and highly transactional people in your organizations.
Attendees will also learn:
How to Communicate at Work and Home
The Dynamics of Change
How to Build a Successful Team
Leadership Styles
Dealing with Conflict
Steps for Personal Growth
How to Eliminate Gossip
How to Give and Receive Feedback.
"I've been using Ford's principles and process for just a few months and it has already made a huge difference in my relationships with my kids, in my marriage, and in our team here at CITYCommit Inc., so I'm not exaggerating when I say that this is the most important leadership event we've ever done," states host, Brian Yost, Founder of CITYCommit Inc.
About Transformational Leadership's Vision, Purpose and Mission:
The TL Vision is to teach, train and equip leaders who develop other leaders who will bring transformation to every sphere of influence.
The TL Purpose is to see every sphere of society positively impacted around the world by developing leaders of leaders.
The TL Mission is to live the tools and behaviors we teach.
About Ford Taylor:
Ford Taylor is a leadership solutions trainer, strategist and speaker. With a primary emphasis on the people that serve an organization while simultaneously maintaining a clear focus of the business or organization itself, Ford shares straight-forward practical solutions through authentic leadership training and individualized leadership consulting. With an empathetic intelligence derived from decades of experience with an array of people, personalities and companies both large and small, Ford Taylor helps to both define and navigate leadership in the organizational culture of today.
EVENT DETAILS
The Transformational Leadership Conference Sarasota Spring 2018 will be held: Thursday and Friday, June 21 and 22, 2018, 7:30 a.m. to 6  p.m. at The Carlisle Inn, 3727 Bahia Vista St, Sarasota, FL 34232.
General Admission tickets are $299 a person. Ticket prices include breakfast and lunch buffets as well as workbook materials. Casual Attire.
Seating for the conference is limited and placement will be based on date of payment, so sign up today for the early pricing of $299/person until May 31.
About CITYCommit Inc.:
CITYCommit Inc. is a Southwest Florida leadership initiative. CITYCommit Inc. creates places to belong. A simple yet profound statement because everyone yearns to belong but only few find it. But in finding "it," personal and community transformation occurs when coupled with Biblical Truth. That's what we do wherever we go … creating greater men, marriages and leaders.
Tickets are available online at: https://www.citycommit.com/.
To learn more about Transformational Leadership and Ford Taylor, visit: https://transformlead.com/.
News Source: CITYCommit Inc.