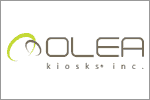 Olea Kiosks Newsroom - Profile and News Archive
Olea Kiosks Inc., is a Los Angeles-based self-service kiosk manufacturer in business since 1975. Its technologically advanced, in-house manufacturing and services have made it an industry leader.
Olea Kiosks of Los Angeles, has been recognized by Frost & Sullivan with the 2019 Customer Value Leadership Award for its self-service kiosk manufacturing and focus on designs for outdoor use.
Engage with Olea Kiosks
Learn more online at: https://www.olea.com/
Follow: Twitter | Facebook | Instagram | LinkedIn | YouTube
Press Releases from Olea Kiosks :