Sacramento SPCA Newsroom - Profile and News Archive
Founded in 1892, the Sacramento SPCA has been providing homeless animals with individual comfort, shelter, and love for more than 128 years. They provide compassionate medical care to tens of thousands of animals annually and offer a variety of programs and services designed to keep people and pets together for life.
MEDIA CONTACT:
Dawn Foster, Sacramento SPCA Marketing & Communications Director dfoster@sspca.org or (916) 802-0915.
Engage with Sacramento SPCA
Learn more online at: https://www.sspca.org/
Follow: Twitter | Facebook | Instagram
Press Releases from Sacramento SPCA :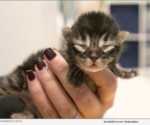 SACRAMENTO, Calif., April 24, 2020 (SEND2PRESS NEWSWIRE) — The Sacramento SPCA announced today that, since April 1, it has seen a 500% increase in the number of underage kittens (younger than six weeks) come in to the shelter at 6201 Florin Perkins Rd in Sacramento versus the same time period last year.